Marlins persevere to give Royals hook in 10th
Marlins persevere to give Royals hook in 10th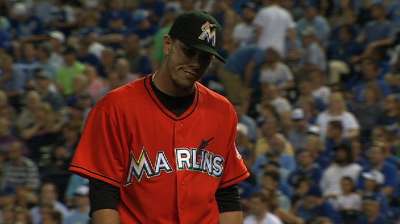 KANSAS CITY -- It has been a tough year for the Marlins in the win-loss department, but Tuesday's 1-0 victory over the Royals in 10 innings gave them a glimpse of what they hope will be a rosy future.
Youth was served nicely as Christian Yelich flourished at the plate and Jose Fernandez flourished on the mound. It's a cornerstone combination that could eventually make this year's growing pains turn into a long-range feel-good story.
Yelich capped a 3-for-4 night with a go-ahead single off Kelvin Herrera in the 10th after Fernandez had continued his masterful pitching with seven shutout innings. As the zeros mounted on the scoreboard, it was a case of which pitcher would blink first.
It turned out to be Herrera, who opened the 10th by hitting Jake Marisnick with a pitch. Marisnick stole second and came racing home when Yelich pulled a Herrera changeup through the hole on the right side with one out.
"It was a tough night for both teams to try and score a run," Yelich said. "That was our time to push one across. I was just trying to wait for a good pitch and I was able to find a hole."
The three hits for Yelich matched a career high and lifted his batting average to .299. He reached base four times and made a bid to help Fernandez get the victory when he singled and stole second in the eighth. It didn't happen for the Marlins then, but Yelich was back two innings later with his own RBI opportunity and proved to be Mr. Clutch.
"He doesn't panic," Marlins manager Mike Redmond said. "He stays within himself every inning and every at-bat."
The matchup between the 21-year-old Fernandez and 36-year-old Bruce Chen, who certainly meets the definition of crafty left-hander, offered a look at the old versus the new.
Both starters were dominant before turning the game over to the respective bullpens. The Marlins got great work from Mike Dunn, Chad Qualls and Steve Cishek to blank a Kansas City team which started the night 19-5 since the All-Star break.
Fernandez now has five starts in which he has worked at least seven shutout innings.
"My changeup was really good today," Fernandez said. "The breaking ball wasn't as good as I wanted it to be, but we won the game and that's what matters. I saved the changeup for later in the game if I needed it, and that was the case."
Redmond believes Fernandez has become an even more confident pitcher since his experience at last month's All-Star Game.
"He's going out there with the confidence of wanting to be the best pitcher in the league," Redmond said. "You know what? He's making a case."
Fernandez got through seven innings with just 94 pitches and the Royals found out what their American League Central foes from Cleveland learned on Aug. 2 when Fernandez fired eight shutout innings against the Indians with 14 strikeouts and just one walk.
"We kind of knew going in it was going to be like that," Royals first baseman Eric Hosmer said. "The kid's good. He's got three well-above average pitches. He commands them all and throws them all for strikes. He was matching Bruce pitch-for-pitch and we just couldn't scratch one out."
The Royals used closer Greg Holland in the ninth. When Kansas City couldn't win it in its half of the ninth against Dunn and Qualls, it gave Miami a chance against Herrera.
When Herrera just grazed the jersey of Marisnick, a .186 hitter, the Marlins had the opening they needed it.
"It wasn't pretty, but we got it done," Redmond said.
Marisnick got his steal of second as Jeff Mathis was striking out. Yelich was then able to adjust against a Herrera changeup and pull the ball between first and second. Right fielder Justin Maxwell had no play at home as Marisnick got a good jump and scored easily.
"[Herrera] was trying to be careful with Yelich on three straight changeups," Royals manager Ned Yost said. "He just caught too much of the plate on the third one."
Robert Falkoff is a contributor to MLB.com. This story was not subject to the approval of Major League Baseball or its clubs.