Robertson bears down for save with Mo unavailable
Robertson bears down for save with Mo unavailable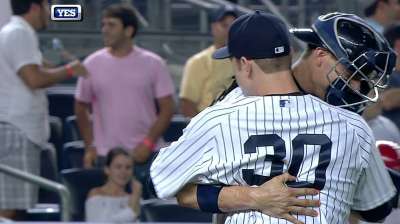 NEW YORK -- When David Robertson saw Josh Hamilton's blooper travel over Alex Rodriguez's head at third and drop into left field with one out in the ninth inning on Monday night, he knew he had just made a difficult situation even harder.
"Good God, you're in a tough spot now," the reliever said to himself. "And it just got even worse."
Hamilton's double cut the Yankees' lead to one run and gave the Angels runners on second and third with one out in the ninth inning. And after an intentional walk to Erick Aybar, Robertson found himself in a bases-loaded jam with no help in sight from closer Mariano Rivera, who was unavailable after throwing 81 pitches over his last three outings.
But, like he's already done so many times in his young career, Robertson worked out of it. "Houdini" struck out Mark Trumbo on three pitches for the second out of the inning and got former Yankees infielder Chris Nelson to wave at a high 3-2 fastball, preserving New York's 2-1 victory over Los Angeles.
"It turned into a really sticky situation," Robertson said. "I didn't really help myself out much. But I held it down."
The save was the sixth of Robertson's career and his first since Sept. 20, 2012, against the Blue Jays. He has now retired 25 straight batters with the bases loaded dating back to April 25, 2011, which is the longest streak since Giants reliever Jeff Brantley retired 30 straight from 1989-1991.
Robertson and catcher Chris Stewart admitted the last pitch to Nelson wasn't in the strike zone. Robertson said it was over the plate but high, and Stewart called the pitch "eye-level."
"It was close enough to the zone where he had to swing," Robertson said. "I don't think he wants to punch out there with runners on base and a chance to win the ballgame."
It wasn't the easiest set of circumstances for the setup man. Despite the fact that Rivera had blown his third straight save on Sunday, the Yankee Stadium crowd broke out into a "We want Mo!" chant after reliever Boone Logan allowed a single to J.B. Shuck to lead off the inning. They serenaded Robertson with the same chant after he gave up the double to Hamilton.
After the game, Rivera said it was Robertson's turn to close, even if it was just for one game.
"I want him to succeed," Rivera said. "Definitely I was pulling for him. And he did a good job. The little blooper, you cannot control that, and the walk. But he faced a good part of the lineup, and bases loaded he struck out the guy."
It's something that could become a lot more common next year. Rivera plans to retire following this season, and Robertson -- who is 4-1 with a 1.81 ERA over 53 appearances this season -- is the heir apparent to take over the ninth for the Yankees.
It's a role he's ready for, even if he's willing to admit throwing the ninth is a little more daunting than pitching in the eighth.
"If I'm throwing the eighth inning, if I gave up a run right there but still escape the inning, then Mo's got to come in to a 2-1 game rather than a 2-0 game," Robertson said. "I do think that not having another inning to fall back on makes a difference."
Just because Robertson got the save on Sunday doesn't mean Girardi is ready to think about life without Rivera just yet, though.
"I never think about next year," Girardi said. "I worry about tomorrow."
Josh Vitale and Chris Iseman are associate reporters for MLB.com. This story was not subject to the approval of Major League Baseball or its clubs.