O's eyeing possible return of slugger Reynolds
O's eyeing possible return of slugger Reynolds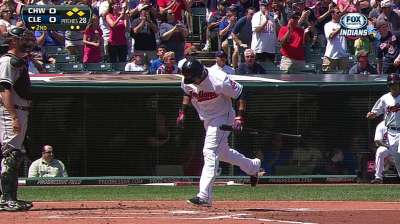 PHOENIX -- The Indians placed Mark Reynolds on release waivers for the purpose of granting him his unconditional release on Monday, begging the question of whether he's on his way back to Baltimore.
Orioles manager Buck Showalter quipped before Monday night's game against the D-backs at Chase Field that his club could use a designated hitter.
"They said Matty [Williams] was talking BP for an alumni game or something else they got coming up," Showalter said, referring to Arizona's third-base coach and one of his players when he managed the D-backs from 1998 to 2000. "Better not take too much BP. We'll activate him. I wonder if he might come over here. We've got a DH spot over here. He can still hit, huh?"
In all seriousness, Reynolds might be a perfect fit. Reynolds played for the Orioles in 2011 and '12, hitting 23 homers and driving in 69 runs last season before signing a one-year, $6 million free-agent contract with the Indians during the offseason.
If Reynolds clears through waivers and is released, the Orioles would just be liable for a pro-rated portion of the minimum Major League salary.
"I'm leaving that in [general manager] Dan [Duquette's] hands," Showalter said. "We've talked about that a little bit, but that's still going through the process. I'm sure we'll have another conversation at some point."
Reynolds had a torrid April with a .310 batting average, eight homers and 22 RBIs. The corner infielder has slumped since then to such a degree that he was hitting .215 with 15 homers and 48 RBIs when the Indians designated him for assignment Thursday.
Barry M. Bloom is national reporter for MLB.com and writes an MLBlog, Boomskie on Baseball. Follow@boomskie on Twitter. This story was not subject to the approval of Major League Baseball or its clubs.