Skaggs, Roe called up to aid 'pen; Spruill optioned
Skaggs, Roe called up to aid 'pen; Spruill optioned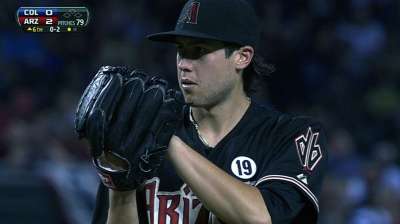 PHOENIX -- Needing bullpen help after Arizona relievers worked six innings Sunday, the D-backs recalled Tyler Skaggs and Chaz Roe from Triple-A Reno on Monday. To make room on the roster for the pitchers, Zeke Spruill was optioned to the Minors and Cody Ross was placed on the disabled list.
"We needed protection, that's why we brought them up," D-backs manager Kirk Gibson said. "If we didn't do it and we got into a situation like we did [Sunday], then you really wear those guys out."
Arizonas has nine relievers, two more than teams typically carry.
"It'll be temporary, probably," Gibson said. "I don't like to go short. You're playing National League games, you need more maneuverability."
Skaggs, who came into the season as Arizona's No. 1 prospect, has started seven games for the D-backs, going 2-3 with a 5.35 ERA, but has never appeared in relief.
"It's going to be different, I'll just try to stick to the same routine and not rush," Skaggs said. "I think it'll be fine. It shouldn't be a big deal. I'll warm up like I'm starting and just go out there and do the same that I've been doing."
As for Roe, Monday marked his third callup this season. He has appeared in four games with the D-backs in 2013, allowing three earned runs 4 2/3 innings. He has eight saves and a 1.21 ERA in 23 relief appearances with Double-A Mobile and Reno.
"I'll take any opportunity I can get," Roe said. "It's always a pleasure to come up here and play. The first time I was a little nervous, then the second time I started settling in. Hopefully this time it'll be even better."
Spruill was 0-2 with a 7.71 ERA in two starts for Arizona in August. He took the loss Sunday in a 9-5 defeat to the Mets, allowing five runs (one earned) in just three innings.
Tyler Emerick is an associate reporter for MLB.com. This story was not subject to the approval of Major League Baseball or its clubs.