Salazar uneven as Twins rookie Albers blanks Tribe
Salazar uneven as Twins rookie Albers blanks Tribe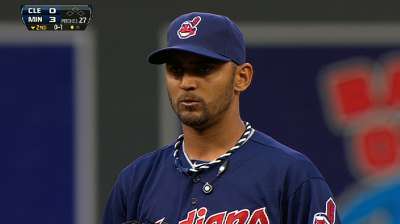 MINNEAPOLIS -- Danny Salazar showed up at Target Field equipped with his customary high-octane fastball. Twins batters showed up looking dead red.
Of Salazar's first 22 pitches, 20 were fastballs. And two of those heaters were deposited by Brian Dozier and Trevor Plouffe over the left-field fence to give Minnesota a 3-0 lead before an out was recorded in the second inning. Following Plouffe's two-run blast, Salazar changed his approach, fanning the next three batters thanks to a heavy dose of splitters and sliders.
"Missed couple of pitches, a couple of fastballs today," Salazar said. "They just got a chance and hit it."
"We only had a little bit of film on him," Dozier said. "We knew he threw 85 percent fastballs, but he has a great fastball with a little run and throws very hard. But I got a good pitch to hit, and it was a little up, so I was able to get a good swing on it."
But nothing short of perfection would've been enough to best Twins starter Andrew Albers, who pounded the strike zone relentlessly while tossing a two-hit shutout, as the Twins beat the Tribe, 3-0, on Monday at Target Field.
"Unfortunately for us, that kid put on a clinic," Indians manager Terry Francona said. "He doesn't overwhelm you with stuff. He attacks the strike zone with all of his pitches, any count. He dominated the game with a fastball that I don't think ever touched 90."
"He mixed up speeds, kept us off balance and threw strikes," outfielder Michael Brantley said. "That was the key."
The quick-working southpaw was perfect for 3 2/3 innings before Jason Kipnis notched the Indians' first hit. Like in Albers' Major League debut, in which he tossed 8 1/3 shutout innings against the Royals, he suffocated Tribe hitters with strikes. And on the few occasions when Indians hitters squared up an Albers pitch, Minnesota defenders were there to flash the leather.
"I was able to get ahead," Albers said. "My fastball was pretty good. It allowed me to get guys off balance and move the ball in and out. They put some good swings on the ball, but they were able to find gloves."
"I think there's some deception to his delivery," Francona said. "He was missing barrels, either below or above. And the balls we did square up, they played very good defense tonight."
Unlike Albers, Salazar had trouble finding the zone at times, and it nearly cost him in the fourth, as the young right-hander walked the bases loaded with one out. A visit from pitching coach Mickey Callaway followed, and Salazar was able to right the ship and escape the jam without allowing the Twins to dent the scoreboard further. But that tumultuous frame was enough for Francona to summon reliever Marc Rzepczynski to start the fifth.
"I thought [Salazar] was a little less crisp than he was last outing," Francona said. "I think the outing against Detroit, he was pumped up and got pretty deep into the game, so we did kind of want to keep him short. He had the long fourth inning ... We just thought, give him a little bit of a blow rather than grind through one more inning, because I don't have any doubt he could've gotten through it."
In the locker room postgame, Salazar said that he was fine to come out for the fifth, but he understands the skipper "has the last word."
Kerry Walls is a contributor to MLB.com. This story was not subject to the approval of Major League Baseball or its clubs.