Albers tops stellar debut with two-hit shutout
Albers tops stellar debut with two-hit shutout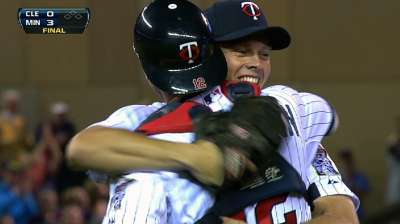 MINNEAPOLIS -- After throwing 8 1/3 scoreless innings in his Major League debut against the Royals last week, Andrew Albers had a lot to live up to in his encore performance.
But Albers surpassed his impressive debut, as he threw a two-hit shutout in his second big league start, and was backed by a pair of homers from Brian Dozier and Trevor Plouffe to lead the Twins to a 3-0 win over the Indians on Monday night at Target Field.
Albers, who was just two outs away from a shutout against the Royals in his Major League debut on Aug. 6, has opened his career with 17 1/3 scoreless innings, which is the longest such stretch to begin a career by a starting pitcher in Twins history. It surpassed Anthony Swarzak's streak of 11 scoreless innings to open his big league career in 2009.
"It's pretty unbelievable," Albers said. "I didn't think it could get any better from the last start, and yet here we are again, and it did. It actually got a little bit better. It's incredible. It's another of those nights where things went my way."
The left-hander surrendered just two hits -- both singles -- and didn't walk a batter en route to the Twins' first complete game this season. The Saskatchewan native, who was pitching in the independent CanAm League as recently as 2010, also became just the fourth rookie in Twins history to throw a shutout with two or fewer hits allowed.
"I think we saw pitching the way it's supposed to be," Twins manager Ron Gardenhire said. "He works quick, moves the ball in and out and changes speeds. That's two performances in a row just like that. So that was special for him to do that tonight in front of our crowd."
Jason Kipnis was the first to reach base for the Indians with a clean single to center field with two outs in the fourth, breaking up the no-hit bid. Albers didn't give up another hit until the eighth inning, when Yan Gomes singled to left with one out.
"Unfortunately for us, that kid put on a clinic," Indians manager Terry Francona said. "He doesn't overwhelm you with stuff. He attacks the strike zone with all of his pitches, any count. And they play very good defense. With the way he pitches, you can see why. It's gotta to be fun to play a game behind him. He dominated the game with a fastball that I don't think ever touched 90."
He outdueled hard-throwing rookie right-hander Danny Salazar, who gave up a home run to the first batter he faced in Dozier. It gave Dozier an extra-base hit in each of his last seven games, which is just one game shy of the Twins' record.
"We only had a little bit of film on him," Dozier said. "We knew he threw 85 percent fastballs, but he has a great fastball with a little run and throws very hard. But I got a good pitch to hit, and it was a little up, so I was able to get a good swing on it."
Salazar ran into trouble again in the second, giving up a leadoff single to Oswaldo Arcia before serving up a two-run blast to Plouffe. It was Plouffe's 11th homer of the year and his first since July 13.
The Twins loaded the bases against Salazar in the fourth with one out, but couldn't capitalize, as Clete Thomas struck out and Pedro Florimon grounded out to end the inning. It marked the final inning for Salazar, who lasted four frames, giving up three runs on three hits and three walks with five strikeouts.
It was enough offense for the Twins, who also backed Albers with several impressive defensive plays.
Dozier robbed Carlos Santana of a bloop single in the fifth with a sliding catch in shallow right field, and the Twins also made two big plays in the seventh. Florimon made a sliding stop on a grounder hit to his left by Nick Swisher and was able to get Swisher with a strong throw for the first out of the inning, before Thomas made a running catch in left-center field to take away a potential extra-base hit from Kipnis for the second out.
It set the stage for a 1-2-3 ninth inning from Albers, who needed 102 pitches -- ranging from 67-mph to 88-mph -- to record the first shutout for the Twins since fellow Canadian left-hander Scott Diamond did it against the Indians on July 27, 2012.
"They put some good swings on the ball, but they were able to find gloves," Albers said. "The defense was incredible behind me. They could probably fill up SportsCenter's Web Gems just from our guys tonight. It was unreal."
Rhett Bollinger is a reporter for MLB.com. Read his blog, Bollinger Beat, and follow him on Twitter @RhettBollinger. This story was not subject to the approval of Major League Baseball or its clubs.