Collins to give Davis more starts vs. southpaws
Collins to give Davis more starts vs. southpaws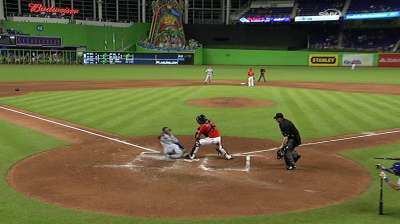 LOS ANGELES -- Manager Terry Collins' trust in Ike Davis has been renewed.
Collins said Monday that he plans to start Davis against a left-handed pitcher this week, something that has not happened since the first baseman returned from the Minor Leagues in mid-July. After watching Davis grind out a walk Sunday against D-backs lefty specialist Joe Thatcher, Collins said, he felt he would reward his streaking slugger with additional playing time.
Davis entered Monday's play sporting a league-leading .538 on-base percentage since the All-Star break.
"It's going to be nice if I do get a start to get three at-bats against a [lefty], instead of just a random reliever that you don't get to see that much," Davis said. "I'm looking forward to it."
Anthony DiComo is a reporter for MLB.com. Follow him on Twitter @AnthonyDicomo This story was not subject to the approval of Major League Baseball or its clubs.