Dodgers remain cautious with Hanley's healing shoulder
Dodgers remain cautious with Hanley's healing shoulder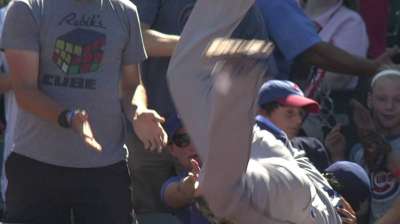 LOS ANGELES -- The Dodgers are being cautious with Hanley Ramirez and his sore right shoulder, which could prevent the shortstop from returning to the lineup for at least a few more games.
Ramirez was available to pinch-hit Monday against the Mets, but the Dodgers' medical staff has not cleared him to play a full game. The club wants to be certain Ramirez won't be at risk to aggravate his throwing shoulder, which has bothered him since he chased a popup into the stands at Wrigley Field on Aug. 4.
"He's got to be at a point where he's not going to hurt himself," manager Don Mattingly said on Monday. "We can't have him play one game if it's going to cost us a week. We've got to be smart."
For the second straight day, Ramirez smoked home runs in batting practice, fielded ground balls and threw from shortstop to first base.
The Dodgers are off Thursday and Mattingly said that might influence him to hold Ramirez out of the lineup until Friday, when the Dodgers open a three-game series in Philadelphia.
"I think he's going to be ready to play in a couple days," Mattingly said. "I'm trying to stay away from him as much as I can, as long as I can. If he's healthy, he's going to play."
Ramirez pinch-hit Friday against the Rays, his only action since he came out of last Sunday's game in the bottom of the seventh inning. He's hitting .359 with 11 homers and 37 RBIs in 55 games this season.
Austin Laymance is an associate reporter for MLB.com. This story was not subject to the approval of Major League Baseball or its clubs.