Francona says extra rest for Kazmir paid off
Francona says extra rest for Kazmir paid off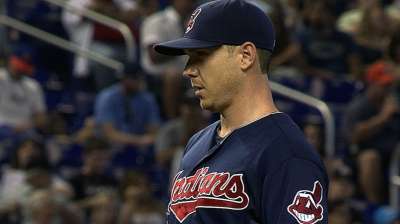 MINNEAPOLIS -- The decision to give starter Scott Kazmir extra rest following his last start on Friday against the Angels evidently delivered the desired results. Indians skipper Terry Francona says his veteran southpaw "feels really good" and will toe the rubber for the Tribe on Sunday in Oakland.
With the club's off-day on Thursday, it not only gives Francona the opportunity to provide an additional breather for Kazmir, but also to bump back Ubaldo Jimenez, who will have gone six days between outings when he faces the Athletics on Saturday. Justin Masterson gets the call in the series opener against the A's.
"It gives Ubaldo two days and Kaz an extra three," Francona said. "[Kazmir] felt like these couple days have really helped him."
Kazmir will throw a bullpen session, possibly on Wednesday in Minnesota, to get back into his regular routine.
Despite only lasting three innings and allowing five runs in his last outing, Kazmir boasts a 2.89 ERA in his five post-All-Star break starts. He's given the Indians more than they could've ever expected with 114 quality innings in 2013, after making just one Major League start since 2011 coming into the season.
Kerry Walls is a contributor to MLB.com. This story was not subject to the approval of Major League Baseball or its clubs.