Red-hot Dodgers notch sixth straight win in opener
Red-hot Dodgers notch sixth straight win in opener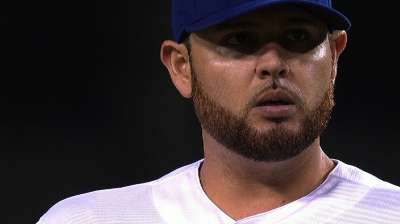 LOS ANGELES -- The Dodgers keep finding different ways to win.
Nick Punto homered, Adrian Gonzalez had three hits and an RBI, Yasiel Puig made an impact with his bat and his glove and the Dodgers beat the Mets, 4-2, on Monday night at Dodger Stadium.
The Dodgers are 38-8 over their past 46 games, the franchise's best 46-game stretch in the modern era (since 1900). The 1899 Brooklyn Superbas had 38 wins in several 46-game clumps between April and June of that year.
Los Angeles has won six games in a row and is 21-3 in the second half. The Dodgers are 18 games over .500, a season-high, and lead the National League West by 7 1/2 games.
"It's a special group," said Punto, who won the World Series with the Cardinals in 2011. "It's one of those teams where, hopefully, special things can happen."
The Dodgers rallied from two runs down to take the lead with a three-run sixth inning. Gonzalez drove in a run with a single, and a poor throw from the Mets allowed another run to score. Puig capped the rally with a sacrifice fly, and then preserved the lead with a great catch in the seventh inning.
The Mets threatened with the bases loaded and two outs, but Puig ended the scoring chance when he hauled in a deep drive by Daniel Murphy in the gap in right-center. Puig ranged back to make the catch, and the crowd roared once the out was made.
"I got a good pitch to hit and put a good swing on it," Murphy said. "That's kind of all you can do right there is just try to center it. I did, and Puig made a good play."
Punto, starting because Hanley Ramirez is nursing a sore shoulder, gave the Dodgers extra cushion with a solo shot to right in the bottom of the inning, his second homer of the season.
After Punto was congratulated by his teammates, the veteran shared a moment with actor Danny DeVito, who was sitting near the Dodgers' dugout. They exchanged words and high fived.
"Danny is my guy, we go way back," Punto said. "I'm going to make him come to a bunch more games here."
DeVito was wearing one of Punto's jerseys, a gift from Skip Schumaker.
"Danny didn't give it back, either," Punto said with a grin.
Ricky Nolasco won his fourth game with the Dodgers, charged with two runs on seven hits in 6 1/3 innings. It was his longest outing since his team debut July 9 at Arizona. The right-hander struck out two against two walks.
The Mets scored two runs in the second inning with four straight singles off Nolasco to begin the frame. But with two on and none out, Nolasco got a strikeout and the Dodgers turned a double play to escape the jam.
"You just got to try to limit the damage and get us back in the dugout," said Nolasco, 4-1 with a 2.97 ERA since the Dodgers acquired him in a trade with the Marlins in early July. "I was able to get that strikeout and the ground ball for the double play. That was big."
Nolasco gave up a double and issued a walk with two outs in the fifth, then retired 11 Mets in a row. But New York chased him after a single and a walk with one out in the seventh.
Ronald Belisario entered and allowed an infield single to load the bases. He then struck out Juan Lagares on a 3-2 pitch that just caught the edge of the strike zone, enough for home-plate umpire Chad Fairchild to ring up the rookie.
"No chance that pitch was a strike," Lagares said. "I just saw the replay right now. For me, it's outside. I saw that pitch outside. But there's nothing I can do about it. Sometimes, that's going to happen."
For the Dodgers, everything seems to be going their way lately.
"We are fortunate," said manager Don Mattingly.
After Belisario's strikeout, Paco Rodriguez came on to face Murphy, and Puig helped out his pitcher. Rodriguez returned for the eighth, striking out two and giving up a pair of singles.
So Mattingly turned to closer Kenley Jansen, who completed a four-out save. Jansen has 18 saves this season, including 11 in a row. He's retired 32 of the last 33 batters he's faced, with 18 strikeouts.
"Kenley has stabilized the end of the game," Mattingly said. "He's been really good. He's kept me off the stairs. "
Gonzalez has driven in at least one run in seven consecutive games, the longest single-season streak for a Dodger since Adrian Beltre did so in eight straight games in 2004. Gonzalez, though, deferred the credit to his teammates.
"You can't have RBIs if guys aren't on base," Gonzalez said. "That's all there is to it."
Austin Laymance is an associate reporter for MLB.com. This story was not subject to the approval of Major League Baseball or its clubs.