Trumbo making contact, but balls not falling in
Trumbo making contact, but balls not falling in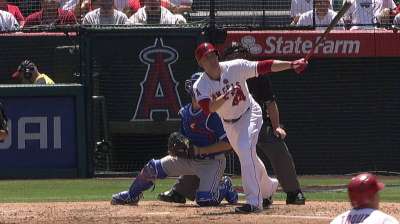 NEW YORK -- Mark Trumbo has already exceeded his previous career high in walks, his strikeout percentage is lower than it was in 2012 and he's hitting line drives with more frequency than ever. Yet his batting average heading into Monday's series opener was an unsightly .237, only 16 points higher than that of struggling slugger Josh Hamilton and 31 points below where he finished last season.
Trumbo puts the onus primarily on himself, but he also doesn't feel like he's had a lot of luck with balls falling in -- and his batting average on balls in play reflects that.
The Major League average for BABIP -- which measures the percentage of balls that fall in safely for a hit, not including homers, and could account for a hitter's luck -- is .297 since 2009. Last year, Trumbo's BABIP was .316. This year, it's .272, somewhat spoiling a season that has seen his walk rate (6.1 percent in '12 to 8.5 in '13), strikeout rate (26.1 to 25.8) and line-drive rate (16 to 21) improve.
"As a hitter, you try and make the best contact you can," said Trumbo, who's added a team-leading 25 homers. "You put balls in play. Some of them should find holes. In some years, they find more holes."
Trumbo, with only nine hits in his last 61 at-bats entering Monday, was dropped to the No. 6 spot of Mike Scioscia's lineup, even though Albert Pujols and Howie Kendrick are still out. And he's still searching for a prolonged rhythm at the plate.
"You know what, man, I want to get better," Trumbo said. "I want to be hitting .300 and on a tear and on a hot streak. But I'm not there. I try to do the best with what I've got now."
Alden Gonzalez is a reporter for MLB.com. Read his blog, Gonzo and "The Show", and follow him on Twitter @Alden_Gonzalez. This story was not subject to the approval of Major League Baseball or its clubs.