Shaky defense, controversial call trip up Mets
Shaky defense, controversial call trip up Mets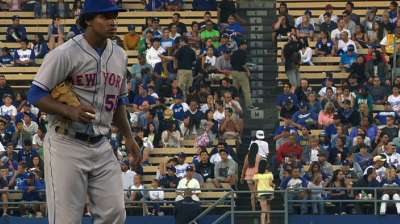 LOS ANGELES -- No sooner had Juan Lagares finished exchanging words with home-plate umpire Chad Fairchild than he stalked to Dodger Stadium's visiting dugout, through the door, down the long corridor that connects it to the clubhouse and to a glowing video monitor. There, he reviewed the critical pitch of Monday's 4-2 Mets loss to the Dodgers.
"For me, it's outside," Lagares said of the sinker that resulted in a rally-killing strikeout. "I saw that pitch outside. But there's nothing I can do about it."
Nor was there anything the Mets could do on a night that saw victory slip through their grasp. The Mets understood the challenge of playing this week at Chavez Ravine. No team in baseball was hotter than the Dodgers, who entered Monday's play having won five straight games, 10 of 11, and -- do not adjust your monitors -- 37 of 45.
What the Mets did not realize was that they would have additional forces working against them. Due largely to defensive issues, the Mets had fallen into a one-run hole when they loaded the bases with one out in the seventh. That brought up Lagares, who worked the count full on seven pitches -- including a nebulous check-swing strike against Dodgers reliever Ronald Belisario.
With the game in the balance, Belisario then delivered an outside sinker that broke back toward the plate, but did not appear to cross it. Yet Fairchild rose out of his crouch and signaled strike three, punching out Lagares instead of allowing him to trot to first with a game-tying walk. The next batter, Daniel Murphy, flied out sharply to end the inning.
Afterward, Belisario claimed that "it was a strike -- definitely." But in the visiting clubhouse the Mets struck a different tone, grumbling both publicly and amongst themselves.
"I had a lot of guys come back and tell me it was outside," said manager Terry Collins, who had not viewed the replay himself.
"No chance that pitch was a strike," Lagares said. "That's what I [told Fairchild]."
It was a controversial enough call to dull the memory of Murphy's defensive misplays half an inning earlier, which gift-wrapped three of the Dodgers' four runs. With no outs and starting pitcher Jenrry Mejia cruising, Murphy was unable to corral Carl Crawford's ground ball toward the second base bag, resulting in an infield hit. The next batter, Mark Ellis, looped a soft liner into shallow right field, where it glanced off Murphy's glove before falling to the turf.
Adrian Gonzalez followed with the Dodgers' first run on a sharp single to center. A second came moments later, when third baseman Wilmer Flores could not corral Lagares' low throw from center. And a third crossed home when Yasiel Puig lifted a sacrifice fly to left.
"It was very frustrating at the time," Murphy said. "Those were two plays I felt I could make, personally. To not make them -- Mejia was throwing the ball so well, and then all of the sudden you look up and it was three [runs]. For me, it left a bad taste in my mouth."
Especially considering the context. For a time, the Mets appeared primed for an early knockout of Dodgers starter Ricky Nolasco, their former Marlins adversary. Four straight singles -- including RBI knocks from John Buck and Omar Quintanilla -- put Nolasco on the ropes, before he wriggled out of that jam and grew stout from there.
The Dodgers added an insurance run in the seventh, on Nick Punto's homer off Carlos Torres. Mejia completed six innings, striking out four and walking none. Afterward, he credited his improved control to better control of his breaking ball and changeup -- the three runs he allowed, Mejia said, were the simple quirks of a "weird game."
"Weird" was not the word Lagares chose to use. A rookie known primarily for his defense, Lagares has nonetheless impressed the Mets with his improved hitting in recent weeks. Though his primary skill is not his batting eye -- he has walked just nine times in 248 plate appearances, one of the 10 lowest rates in baseball -- Lagares flashed a new skill set in working the count full.
Had Fairchild called Belisario's eighth pitch a ball, the Mets would have been facing a tie game with the bases loaded and one out in the seventh. Instead, they were trailing by one with two outs in the inning.
They never recovered.
"I'm not going to sit here and get on the umpire," Collins said. "We had opportunities to score runs and didn't put balls in play. That's what it came down to."
Anthony DiComo is a reporter for MLB.com. Follow him on Twitter @AnthonyDicomo This story was not subject to the approval of Major League Baseball or its clubs.