Redmond hoping Ruggiano can catch break
Redmond hoping Ruggiano can catch break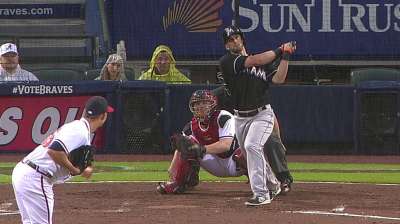 KANSAS CITY -- With outfielder Justin Ruggiano locked in an 0-for-42 slump and approaching a Major League record involving a hitless streak for a position player, Marlins manager Mike Redmond continues to offer support and encouragement.
"There isn't much you can say except hang in there and keep fighting," Redmond said. "Anytime a guy struggles for that long, you feel for him because you know what he's going through. I used to beat myself up when I took an 0-for-4."
Just a simple bad-hop single or a blooper off the end of the bat that falls in could do wonders for Ruggiano, according to Redmond.
"He just needs a break," Redmond said. "It's not like he's going up there and striking out every time. He's putting the ball in play."
Robert Falkoff is a contributor to MLB.com. This story was not subject to the approval of Major League Baseball or its clubs.