Viciedo praises fellow Cuban prospect Abreu
Viciedo praises fellow Cuban prospect Abreu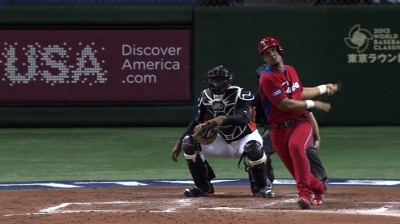 CHICAGO -- Reports of Jose Abreu, 26, defecting from Cuba already have sent the collective minds of fans around baseball into high gear regarding the addition of this powerful bat when he is declared a free agent.
Dayan Viciedo, who made his own journey from Cuba to the Major Leagues prior to the 2009 season, only reinforces that excitement with his words about the man he once played against.
"He's got a really good bat. He can hit. I remember that," said Viciedo through translator and White Sox coach Lino Diaz. "I know he's a good player but more than anything, I remember he has a good bat."
Viciedo expressed willingness to help recruit Abreu if the White Sox engaged in serious pursuit, with the White Sox having employed Jose Contreras, Orlando "El Duque" Hernandez, Alexei Ramirez and Viciedo from Cuba over the past decade. But that pursuit still seems a ways away for a player who hit .360 with three homers and nine RBIs for Cuba during the 2013 World Baseball Classic, with Viciedo avoiding any early comparisons to current Major Leaguers.
"To compare him would be kind of hard," Viciedo said. "I'm sure that he's going to prove what he can do and he's going to show what kind of talent he's got because, hitting-wise, he has pretty good talent. He's always been representing Cuba in international tournaments, and he's always been good.
"I wouldn't go past that in saying anything else. But he's a good hitter."
Scott Merkin is a reporter for MLB.com. Read his blog, Merk's Works, and follow him on Twitter @scottmerkin. This story was not subject to the approval of Major League Baseball or its clubs.