No help for brilliant Wood as offense scuffles at home
No help for brilliant Wood as offense scuffles at home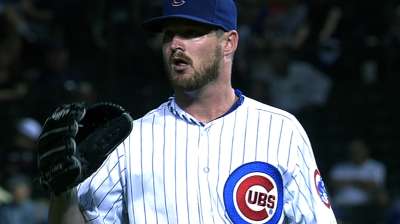 CHICAGO -- Travis Wood notched his 20th quality start Monday night, but he was muttering to himself after the game because he couldn't come through at the plate.
Brandon Phillips hit a two-run homer with one out in the seventh to back Mat Latos, who threw eight shutout innings, and lift the Reds to a 2-0 victory over the Cubs on Monday night.
The Cubs now have been shut out nine times this season, and blanked in their last three home games for the first time since Aug. 20-21, 1924.
"It's funny, because we're scoring in bigger parks and stuff on the road and we can't seem to muster anything at home," Cubs manager Dale Sveum said.
Blame Latos. The Reds, who would be one of the Wild Card entries if the season ended today, needed their starter to go deep after a 13-inning game on Sunday. Latos retired 14 of the first 15 batters he faced before Donnie Murphy singled to left with two outs in the fifth. Darwin Barney followed with a single, but Latos got Wood to fly out and end the inning.
"I'm still upset about my at-bats -- it's a touchy subject," said Wood, who leads Cubs pitchers with three home runs.
Junior Lake singled with one out in the Cubs sixth, but Shin-Soo Choo threw him out at third trying to advance on Anthony Rizzo's single.
"Choo threw the most perfect throw you could throw," Sveum said. "You can't put a ball there any better than that. I've got no problem with that aggressiveness."
"That was big," Reds manager Dusty Baker said of Choo's throw. "That guy [Lake], he can fly. He's a talent, big time. Pitching and defense usually gets it done, and you get a home run and that's the ballgame."
Wood took the loss, giving up four hits over eight innings. He faced one over the minimum in the first six innings, and David DeJesus helped in the third, throwing out Devin Mesoraco at second base when the Reds catcher tried to stretch his single.
Todd Frazier walked to open the Cincinnati seventh, the only walk by Wood, and one out later, Phillips fouled off three straight pitches before launching a slider into the left-field bleachers.
"He tried to back door a slider and pulled it and obviously, [Phillips hit] a two-run homer," Sveum said. "Other than that, he matched Latos pitch for pitch. It's a shame somebody had to lose that game. Guys were matching some pretty good hitters and Woody pitched one heck of a game again."
"I was ahead in the count," Wood said of his battle with Phillips, "and I missed with the pitch and it came in right where he was looking and wanted it. He did his job and hit it out of the park."
With the loss, Wood dropped to 0-4 in six career starts against his former team, which drafted him in the second round of the 2005 First-Year Player Draft, then dealt him to the Cubs in December 2011 in the Sean Marshall deal.
The left-hander, who ranks third in the Majors in quality starts, isn't the only one who has struggled against the Reds. The Cubs now are 3-11 against them this season, including a 1-7 mark at Wrigley Field.
Latos now is 4-0 with a 1.32 ERA since the All-Star break. Sveum said he told bench coach Jamie Quirk that the Reds right-hander was on from the beginning.
"I haven't seen him get it to that velocity in quite a while," Sveum said of Latos. "When you have a slider 88 miles an hour with that kind of depth, it comes out as a fastball. You're not going to hit that kind of stuff too often. It's just too overpowering and too good of a secondary pitch."
Wood said Latos "out-pitched him" this time. The Cubs felt Wood did his job.
"Usually when you give up two runs through seven, you're feeling really good about yourself," Barney said. "Unfortunately, we couldn't give [Wood] that cushion. If it's 4-2, he feels like he did his job tonight, but unfortunately, he's going to go home feeling like he didn't do a good job."
Wood did -- it just wasn't good enough.
Carrie Muskat is a reporter for MLB.com. She writes a blog, Muskat Ramblings, and you can follow her on Twitter @CarrieMuskat. This story was not subject to the approval of Major League Baseball or its clubs.