Phillips' late two-run blast punctuates Latos' gem
Phillips' late two-run blast punctuates Latos' gem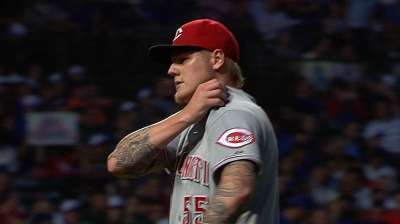 CHICAGO -- Besides the requisite going for a win on Monday against the Cubs, Reds pitcher Mat Latos had other equally important tasks charged to him. Namely, Latos was needed to pitch efficiently and go deep in the game one night after his team's bullpen was taxed in a 13-inning contest.
All three boxes could be checked off, as Latos pitched brilliantly for eight innings and 94 pitches in a 2-0 win over the Cubs. The outing was supported by the night's lone offense via Brandon Phillips, who hit a two-run home run in the top of the seventh.
"Our bullpen was tired and overpitched and coming off of an extra-innings game yesterday," Reds manager Dusty Baker said. "Big Latos gave us exactly what we needed."
The Reds have won five of their last six games and closed their deficit to 4 1/2 games behind the first-place Pirates in the National League Central, and 1 1/2 games behind the second-place Cardinals.
Latos, now 12-3 with a 3.04 ERA in 24 starts this season, gave up six hits and hit a batter while striking out nine. He gave way to closer Aroldis Chapman in the ninth, who struck out the side for his 28th save.
"Walt [Jocketty, the Reds' general manager] came over to me yesterday and said, 'We need nine shutout innings from you.' I begged for that ninth inning," Latos said. "But we'll give it to one of the best closers in the game and finish it off."
Eight of nine shutout innings aren't bad. They overshadowed a good performance by ex-Reds lefty Travis Wood, who also worked a season-high eight innings. Wood is 0-3 with a 3.67 ERA in four starts vs. the Reds.
Save for hitting Welington Castillo with a 0-1 fastball to start the Cubs' second inning, Latos did not have another baserunner through his first 4 2/3 innings. Chicago's first hit came on Donnie Murphy's two-out lined single to left field in the fifth.
Darwin Barney followed with a lined single to right field, but Latos got Wood to fly out to end the inning.
"Tonight, I had real good stuff," said Latos, who is 4-0 with a 1.32 ERA in five starts since the All-Star break. "I was able to rely on the fastball and the slider the whole game. I threw one other pitch besides the fastball and the slider today.
"[Devin] Mesoraco called a good game. I didn't shake one time. ... I felt like I could place it right wherever the mitt was today and be pitch-efficient. I got a lot of ground balls, popups and fly balls."
During the Cubs' sixth, Latos gave up a one-out single to center field by Junior Lake, which was followed by a sharply lined one-bounce single to center field by Anthony Rizzo. In a play that changed the tone of the inning, Lake was thrown out trying for third base on a perfect throw from center fielder Shin-Soo Choo.
"That was a big throw by Choo," Baker said. "I didn't think he had a chance. That ball was right there. If it hadn't been right on the toe, he would have been safe and they would have had a runner at first and third. They could take the lead with a sac fly and it could be a different ballgame."
Latos struck out Castillo to end the inning and keep the game scoreless.
While Chicago was shut out for its third straight game at home for the first time since 1924, the Reds haven't exactly found an offensive groove themselves. Cincinnati was held to three runs or less for the 12th time in the last 15 games. The return of Ryan Ludwick after he went on the disabled list following an Opening Day shoulder injury did not provide a boost. Ludwick, who was 0-for-3, saw only two pitches over his first two at-bats, including grounding into a double play in his first at-bat.
"He hadn't played in four months," Baker said. "I'd rather have overeager than taking. He hit one ball really hard, the double play ball. It's going to be a little while before he feels really 100 percent. I'm just glad to have him back."
The Reds have scored five times over their last 33 innings. Four of those runs have been via two-run homers. Two came from Phillips. Two batters after Todd Frazier began the Reds' seventh inning with a walk, Phillips snapped the tie by hitting an 0-2 pitch into the left-field bleachers for a two-run homer, his 15th, and his 88th and 89th RBIs.
Phillips declined to talk to reporters after the game.
"He out-pitched me tonight," Wood said of Latos. "I made a mistake to Phillips and he hit it out of the park, and that was all they needed."
Baker did not waver in going to Chapman, and defended not sending Latos back out.
"They were starting to hit some balls hard," Baker said. "Now is not the time to be sentimental. We had a fresh arm in Chapman. I don't think Latos could have done any better than Chapman closing it. That's his job.
"We have to really watch Latos around the 100-pitch mark. They had some big hitters coming up. We didn't want him to get into trouble and then bring in Chapman."
Mark Sheldon is a reporter for MLB.com. Read his blog, Mark My Word, and follow him on Twitter @m_sheldon. This story was not subject to the approval of Major League Baseball or its clubs.