Getz back in KC's lineup after coming off DL
Getz back in KC's lineup after coming off DL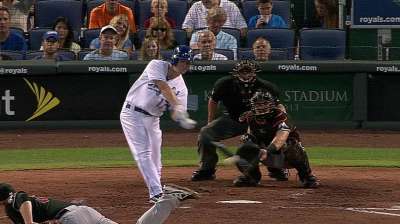 KANSAS CITY -- Royals second baseman Chris Getz on Monday was activated from the 15-day disabled list and started at second base against the Marlins. He was placed on the DL on Aug. 1 with a left knee strain.
"I feel good," Getz said. "My knee was progressing prior to me having to go on the DL, but we had a roster situation and they didn't really have time to give me any more days though I probably was pretty close, but it was an opportunity for me to go down there [Triple-A Omaha] and get consistent at-bats so when they decided the time was right for me to come back, baseball wasn't so foreign."
Getz batted .300 (6-for-20) including a solo home run in five games with Omaha. He entered Monday batting .209 for the Royals with 20 runs scored and eight stolen bases.
"When I was down rehabbing in Omaha, I was watching as much as I could on TV, and I could tell how much fun they were having," Getz said. "I couldn't wait to get back just to be a part of it."
Getz helped the Royals right away by going 3-for-4 with an RBI single in a 6-2 win over the Marlins.
Dick Kaegel is a reporter for MLB.com. Kathleen Gier is an associate reporter for MLB.com. This story was not subject to the approval of Major League Baseball or its clubs.