On DL, Ross to undergo season-ending hip surgery
On DL, Ross to undergo season-ending hip surgery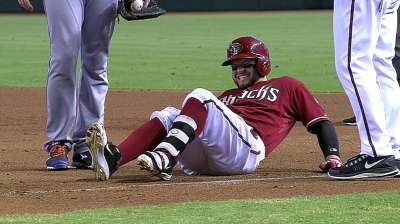 PHOENIX -- A day after Cody Ross dislocated his right hip trying to beat out a grounder at first base, the D-backs placed the 32-year-old outfielder on the 15-day disabled list Monday and announced that he will undergo season-ending surgery Tuesday morning to repair a small fracture caused by the injury.
"It's going to be a while," D-backs manager Kirk Gibson said. "It's a traumatic injury."
With two down and a man on second in the first inning Sunday against the Mets, Ross hit a slow roller to third base and appeared to stumble just before stepping on the bag at first. He immediately fell to the ground, writhing in pain. Ross was lifted by a stretcher onto a medical cart and driven off the field to a local hospital where doctors popped the hip back into place. Ross was transported to a different hospital Monday where the surgery might take place.
Because of the unusualness of the injury, the D-backs don't have a realistic timetable for Ross' return. Gibson said he was hopeful the outfielder would be back in time for Spring Training, but that he didn't know much about the recovery process.
"It's not like a guy who messed up his elbow where you know it'll be 11 months. I think it's a little more complicated than that," Gibson said. "I don't think many people do this in baseball. It's not a common injury."
Gibson added that he texted Ross, who had hit .395 over his last 12 games before the injury, and received only positive-thinking words in response.
"He told me it was a bump in the road, not to worry and that he'll be good," Gibson said. "That's kind of how his attitude is."
Tyler Emerick is an associate reporter for MLB.com. This story was not subject to the approval of Major League Baseball or its clubs.