Richards hurls CG, but can't match Kuroda in loss
Richards hurls CG, but can't match Kuroda in loss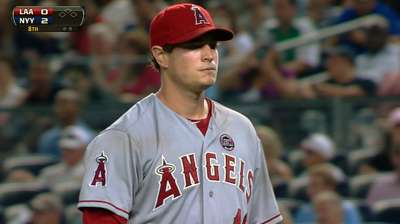 NEW YORK -- The Angels' hopes for a comeback against a Mariano Rivera-less Yankees team were blown away on the empty swings of Mark Trumbo and Chris Nelson, both whiffing on out-of-the-zone pitches from David Robertson to strand the bases loaded and ensure a 2-1 loss on Monday night.
But there was a glaring positive, even on a night when the Angels couldn't touch Hiroki Kuroda and couldn't avoid falling a season-high 15 games out of first place in the American League West: Garrett Richards continued to pitch well.
The Angels have a dearth of high-upside starting-pitching prospects in their 30th-ranked system, not to mention a sense of urgency to improve their Major League rotation for next season. And the 25-year-old Richards can help address both of those needs if he continues to pitch like he did in the opener of a four-game series, hurling eight innings of two-run ball to continue his run of success since taking Joe Blanton's spot in the rotation three weeks ago.
"Hopefully, he's maturing," Angels manager Mike Scioscia said, his team losing for the 12th time in its last 17 games and essentially looking ahead to 2014. "He was our best pitcher in Spring Training. He threw the ball better than anybody we had, and I think in the bullpen, it helped him to get his power stuff in order. And now back in the rotation, he's getting length and depth. You're seeing his ability to command counts improve, and he's having a lot of success."
Impressive as he was in an intimidating Yankee Stadium, with the ESPN cameras looking on and a still-dangerous Yankees batting order in front of him, Richards couldn't outpitch the surging 38-year-old Kuroda, who hurled eight innings of shutout ball and put only three runners in scoring position to run his ERA to 0.94 over his last seven starts.
Richards' only mistakes came on a couple of two-out fastballs that stayed up, resulting in Brett Gardner's RBI single in the third and Curtis Granderson's solo homer in the seventh.
The biggest difference between Richards now and in his previous stints in the Angels' rotation boils down simply to "his ability to throw strikes," according to Chris Iannetta.
"That's really all it is," the Angels' veteran catcher added. "His stuff is the same. It's just a matter of being able to throw strikes and getting ahead in counts and staying in counts. And then when he does throw strikes, it's being down in the zone. The two times he got hurt tonight, he was up in the zone -- the RBI single and the home run. And that's the difference."
Richards scattered seven hits, walked one and struck out three while throwing 68 of his 101 pitches for strikes. Over his last four starts, he has a 2.42 ERA.
"I watched him do it in the Minor Leagues and now he's doing it up here," Richards' roommate, Mike Trout, said. "He just has to keep that rhythm going and momentum and carry it over to the next start."
That will be the key for Richards, who has yet to establish consistency in the Majors while shuffling back and forth between the rotation and the bullpen.
Last year, he posted a 4.49 ERA in nine starts from June 5 to Aug. 1, then went down to the Minors, came up three weeks later and pitched in relief the rest of the way. This year, he had a 1.45 ERA in Spring Training, made the Opening Day roster as a reliever, replaced Jered Weaver when the Angels' ace broke his left elbow, had a 5.54 ERA in four April starts and spent the better part of the next three months in relative obscurity in the bullpen.
"It's a maturation process," Iannetta said. "He's getting accustomed to the starting role in the big leagues and ironing out his mechanics, too."
The Angels' comeback bid fell short on Monday. Josh Hamilton fisted a blooper over the outstretched glove of third baseman Alex Rodriguez in the ninth, scoring J.B. Shuck to make it a one-run game and putting runners on second and third with one out. But after intentionally walking Erick Aybar, Robertson -- pitching the ninth inning because Rivera was unavailable -- struck out Trumbo and Nelson as the Angels moved to 2-2 on this road trip.
Richards' complete-game outing was one of few reasons for encouragement.
"There are some positives to take away, and definitely one of them is the way Garrett pitched," Scioscia said. "It's important for him to keep moving forward. He took it into a good park against a tough lineup and pitched well."
Alden Gonzalez is a reporter for MLB.com. Read his blog, Gonzo and "The Show", and follow him on Twitter @Alden_Gonzalez. This story was not subject to the approval of Major League Baseball or its clubs.