Morrison back in old stomping grounds in KC
Morrison back in old stomping grounds in KC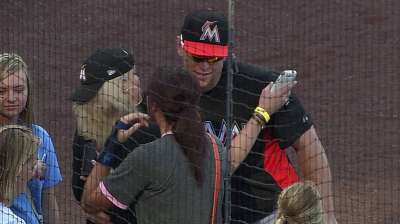 KANSAS CITY -- Logan Morrison came out for early batting practice on Monday on his personal field of dreams.
As a young fan attending Royals' games at Kauffman Stadium in the 1990s, Morrison fell in love with baseball and decided to set a goal of becoming a Major Leaguer. Morrison was born in Kansas City, lived there full time from ages 11 to 16 and returned for a year at Maple Woods Community College in the KC suburbs.
At Monday's homecoming, Morrison had a group of 60 family members and friends cheering him on. Although the Marlins dropped a 6-2 decision, Morrison did well in his first Major League game in Kansas City. He reached base three times with two walks and an RBI double.
"I'm back to where it all started with a little boy's dream," Morrison said. "This is where I realized, I wanted to become a big leaguer."
Morrison, then in elementary school, remembers attending a Royals' game with his grandmother in 1994, when Rookie of the Year Bob Hamelin hit a mammoth home run. Years later, Morrison was hitting prodigious blasts of his own for Maple Woods coach Marty Kilgore, who was on hand to see his former pupil on Monday.
Maple Woods is known for producing Angels slugger Albert Pujols, but Morrison has his own special place in the program's history. Morrison hit .436 with nine homers in 2005 to put himself prominently on the radar screen of Major League scouts.
"It's a really great feeling to come out here and watch Logan play," Kilgore said. "It wasn't that long ago, he was with us and we're thrilled to have been a little steppingstone for him on his way to the Major Leagues."
Before the Marlins leave town, Morrison will have his powder blue Royals' replica jersey of George Brett signed by the Hall of Famer. Morrison, who changed his uniform number to Brett's No. 5 a couple of years ago, visited with Brett at the 2012 All-Star Game in Kansas City.
"He said, 'I'm going to call you '5.' Brooks Robinson called me '5' and I'm going to call you '5,'" Morrison recalled.
Robert Falkoff is a contributor to MLB.com. This story was not subject to the approval of Major League Baseball or its clubs.