Marlins fishing for outs costly against Royals
Marlins fishing for outs costly against Royals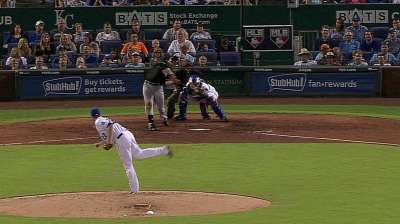 KANSAS CITY -- At this stage of his team's development, Marlins manager Mike Redmond continues to emphasize the importance of not giving opponents extra outs.
Miami did just that in the fourth inning Monday night and it set the tone for the Royals to jump on top and eventually go on to a 6-2 victory at Kauffman Stadium. The Marlins, who have dropped six of seven on their nine-game road trip, failed to execute the 3-1 putout on two occasions. But it was the first one in the fourth that really hurt.
Marlins starter Tom Koehler was rolling along with two outs in the fourth. He hadn't given up a hit when Mike Moustakas smacked a hard shot that was fielded by first baseman Logan Morrison. But Koehler was late covering first and Moustakas beat the play for an infield hit.
A harmless two-out single? Not so fast.
The extra out gave the Royals an opening and they took full advantage. Justin Maxwell delivered an RBI triple and Chris Getz followed with an RBI single to make it 2-0. The Marlins later rallied to tie the game in the sixth, but that burst of offense could have meant a two-run lead instead of a tie if not for the earlier defensive lapse.
"We didn't cover first a couple of times and we gave them an extra out," Redmond said. "Right now, when we make a mistake, it's killing us. On the first one, [Koehler] kind of slipped. That's a play we should execute every time."
Koehler agreed, thinking back to all the repetitions of covering first in Spring Training drills.
"When there are two outs and a play like that happens, it's unfortunate," Koehler said. "It's something we work on thousands of times in Spring Training and it seems monotonous at the time. In a situation like today, it ended up being a real big play. The first one, I fell. It's no excuse. I should be accustomed to getting over there by now."
Royals starter Wade Davis took a 2-0 lead to the sixth when Kansas City had an issue of its own defensively. Giancarlo Stanton smashed a one-out single to center and the ball rolled past center fielder Jarrod Dyson for a two-base error. Morrison, playing his first Major League game in the city where he was born, followed with an RBI double. Greg Dobbs then doubled home Morrison to tie the game.
Morrison had two walks in addition to his double as family and friends cheered him on.
"It was pretty special," Morrison said. "I didn't anticipate being as nervous and excited as I was. I kind of calmed myself down and realized it was still baseball." The Marlins were unable to keep Kansas City from bunching hits. The Royals had four consecutive hits in the fourth when they scored two and then took the game over for good by stringing together four more consecutive hits in the sixth to score three.
The winning rally began with a one-out single by Chris Getz. Alcides Escobar, who has been serving the ball to right field with regularity during Kansas City's 19-5 spurt since the All-Star break, went the other way for an RBI triple to make it 3-2. Dyson followed with an RBI infield hit and David Lough added a soft RBI single to right.
Just like that, the Royals were up 5-2. They added an insurance run on Billy Butler's homer off Ryan Webb in the seventh.
"They didn't really hit [Koehler] hard, but they made the most of their hits," Redmond said.
The Royals (62-54) moved past Cleveland into second place in the American League Central.
"We're obviously going through a good stretch right here and we're going to ride it out as long as we can," Getz said.
Morrison was impressed by the effort that Davis put forth while limiting the Marlins to two runs over six innings. Kansas City went to four relievers, but didn't have to use closer Greg Holland.
"Wade was pretty good tonight," Morrison said. "He had his cutter working."
Robert Falkoff is a contributor to MLB.com. This story was not subject to the approval of Major League Baseball or its clubs.