Royals hook Fish to gain second in AL Central
Royals hook Fish to gain second in AL Central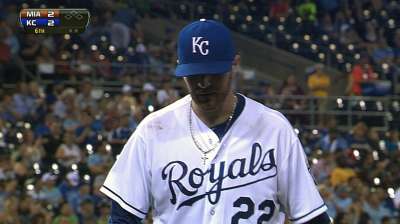 KANSAS CITY -- From Boston, the team with the best record in the American League, the Royals turned to Miami, the team with the worst record in the National League.
These days the Royals are treating all comers pretty much the same. They knocked off the Marlins, 6-2, on Monday night at Kauffman Stadium for their 19th victory in 24 games since the All- Star break.
The 15,956 fans witnessed Kansas City take over second place in the AL Central, passing Cleveland in the standings. First-place Detroit also lost so the Royals closed to within 6 1/2 games of the lead. They were fresh from winning three of four games from Boston.
"We're in second place now, we've just got to keep up the hard work we've been doing," said reliever Kelvin Herrera. "We're climbing ... We're in the mood to win a lot of games."
The Royals also are a season-high eight games over .500. The last time they were eight games over this late in a season was Sept. 22, 2003, a decade ago.
There's even a bit of scoreboard-watching going on these days.
"You watch what other teams are doing," said Billy Butler, who contributed a home run to this win. "You can't help but watch what Detroit is doing. I noticed Cleveland lost tonight and we jumped in front of them and that's a great feeling. Second place feels good at this point in the year, but there's a long way to go."
A three-run sixth inning by the Royals snapped a 2-2 tie and gave right-hander Wade Davis the victory, his first at Kauffman Stadium since April 10 over the Twins. He was 0-5 in nine starts after that.
And this win came after a weeklong absence as Davis was called away to Florida for the funeral of his stepbrother and he was grateful for the support from the Royals.
"They've been great," he said. "Everybody in the organization's been great. We're like a family in here, so it's good to have support."
The Royals went ahead, 2-0, in the fourth inning against right-hander Tom Koehler -- the break coming when Mike Moustakas beat out a grounder to first baseman Logan Morrison. Koehler slipped on his way to cover first and was late to the bag. An out would've ended the inning.
"It's something we work on thousands of times in Spring Training and it seems monotonous at the time," Koehler said. "In a situation like today, it ended up being a real big play. ... I fell. It's no excuse. I should be accustomed to getting over there by now."
After that Justin Maxwell tripled into the right-center gap to score Moustakas whose calf tightened up as he ran, causing him to leave the game an inning later. Maxwell scored on the first of Chris Getz's three singles.
But the Marlins came back with two runs in the sixth as Davis didn't get the help he needed from his outfielders.
Jarrod Dyson misplayed Giancarlo Stanton's single in center field and the error put the runner at third with one out. Maxwell seemed to be drawing a bead on Morrison's long drive near the wall in right-center, but the ball flew past his glove for an RBI double. After an out, Greg Dobbs doubled into the right-field corner to score Morrison and Maxwell missed the ball as it rolled out for an error.
"When [Dyson] came back to the dugout he said, 'I'll get that run back for us,' and he ended up doing it on the infield hit that scored [Alcides] Escobar from third," Yost said.
That came in the midst of the Royals' big sixth-inning rally that Getz started with a one-out single. Escobar tripled him home and then scored on Dyson's high chop to the third baseman. That ended Koehler's outing and David Lough greeted reliever Dan Jennings with an RBI single for a 5-2 lead.
"That game could have definitely taken a different turn, especially when they came back and tied it, but we bounced back and scored some more runs and got Wade a win which is big," Butler said. "That gives out pitching staff more confidence. That's the kind of stuff that winning teams do. I feel like we've turned that corner and everybody in here doesn't want to turn back."
Butler led off the Royals' seventh with his 11th home run, pulling a drive to left field against right-hander Ryan Webb. Butler has a six-game hitting streak in which he's 12-for-25 (.480).
"Billy's getting hot now which is a good thing for us," Yost said.
Davis departed after six innings and 94 pitches. Relievers Louis Coleman and Tim Collins combined to load the bases in the seventh but escaped the jam. Herrera pitched past a leadoff double for a scoreless eighth. And Luke Hochevar worked around a single in the ninth. Closer Greg Holland was warming up but wasn't needed.
The three scoreless innings gave the bullpen a 23-inning stretch in which just one run has scored, a 0.39 ERA.
"It's pretty good. We're supporting the starters -- that's our job," Herrera said.
It could all change quickly, of course, but for at least one night the Royals were the team just behind the first-place Tigers, the division leaders that they'll meet later this week in a five-game series at Detroit. Of course, there are still two games to go against Miami.
"We've just got to focus on every game -- I know it's a cliché," Getz said "But, yeah, that series is going to be big. It's going to be a lot of fun."
Dick Kaegel is a reporter for MLB.com. This story was not subject to the approval of Major League Baseball or its clubs.