Former Cuban MVP Abreu said to defect
Former Cuban MVP Abreu said to defect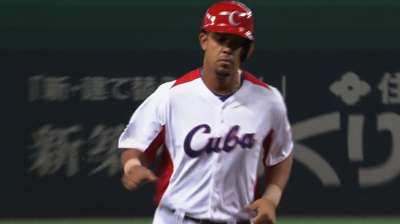 Twenty-six-year-old Jose Abreu has defected from his native country of Cuba and could be attractive to a number of teams, according to an ESPN.com report.
A report in El Nuevo Herald cites two agents in saying that Abreu left for the Caribbean, though it acknowledges other reports that have him in the Dominican Republic or Haiti, and the ESPN report does not specify where Abreu may have gone. In order to be eligible to be signed by a Major League team, Abreu would have to establish residency in another country, be declared a free agent by Major League Baseball and be cleared by the United States government.
Abreu would join Oakland's Yoenis Cespedes and the Dodgers' Yasiel Puig as some of the most high-profile Cuban ballplayers to make the transition to the Majors. The Nuevo Herald report cites an agent as saying that Abreu would command a larger contract than Puig or Cespedes.
According to the ESPN report, Abreu is a former MVP in Cuba, where he had one of the best seasons in league history in 2010-11, hitting .453 with 33 home runs and 93 RBIs across just 66 games.
In this year's World Baseball Classic, Abreu hit .360 (9-for-25) with three home runs and nine RBIs in six games. He would be likely to play first base in the Majors.
Joey Nowak is a reporter for MLB.com. Follow him on Twitter at @joeynowak. This story was not subject to the approval of Major League Baseball or its clubs.