Nearly no-hit, Astros edged by Rangers
Nearly no-hit, Astros edged by Rangers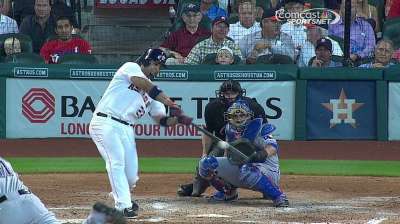 HOUSTON -- The Astros know how to play foil to Texas pitcher Yu Darvish. For the second time this season, the righty almost no-hit Houston -- this time with five outs remaining -- but just like on April 2, it was broken up by an unlikely Houston source.
Similar to that first flirtation with perfection against the Astros, Darvish secured his 12th win on Monday. He had less margin for error this time around, as Carlos Corporan's eighth-inning solo homer broke up the no-hit bid and halved the deficit, but Texas prevailed, 2-1, at Minute Maid Park.
"It was pretty similar [to April 2]," said Houston manager Bo Porter. "Again, you're talking about a guy who has top-line stuff, knows how to use it. He throws all his pitches in any count, he pluses and minuses his fastball. First one of the game was 89 [mph]. You look up three innings later, and he's throwing 96, and it's all coming from the same arm slot. It's pretty good."
The win meant a four-game sweep for the Rangers in Houston and a sixth straight defeat for the Astros, who became the first Major League team to reach the 80-loss mark this season.
In the second game of the season and his first start, Darvish came without one out of a perfect game in Houston before Marwin Gonzalez broke it up with a ninth-inning single.
Darvish was no less dominant Monday, with Corporan's knock being the only hit he allowed to complement one walk and a career-high 15 strikeouts over eight innings.
"The pitches that I threw today were a lot different than what I threw in April," Darvish said. "I didn't throw that many cut fastballs, it was mainly sliders.
"I don't think my fastball was up there, but I had really good movement on my slider."
His brilliance negated another formidable outing by Astros lefty Brett Oberholtzer. Making the third start of his career, Oberholtzer pitched 6 2/3 innings, allowing only a pair of runs in the first inning and seven hits while fanning six.
After he held Baltimore and Boston scoreless over 14 innings in his first two career starts, Oberholtzer faced the pressure early on Monday.
Adrian Beltre's first-inning double plated Ian Kinsler before catcher A.J. Pierzynski drove in Beltre with a single for a quick 2-0 advantage.
"I'm a guy that likes to settle in," Oberholtzer said. "They got to me early, but other than that, I felt pretty good. Body-wise, not quite the same [as his first two starts], but some days, you'll wake up and not feel 100 percent."
From there, it was the Yu Darvish Show, and the Astros were just watching. Five of Darvish's 15 strikeouts caught a Houston batter looking. Jake Elmore was the only Astros player who didn't go down on strikes in the game.
That hesitance eventually paid off in the sixth. With a 2-2 count and two outs, Jonathan Villar took a breaking pitch that appeared just on the lower edge of the strike zone. Pierzynski and Darvish each began to trot for the dugout, figuring that it would be a called third strike.
Instead, home-plate umpire Ron Kulpa ruled it a ball, and Darvish walked Villar for Houston's first baserunner of the day. Pierzynski was tossed immediately for arguing with Kulpa.
"Pierzynski didn't like the pitch that I [called for a ball]. We had words about the [2-2] pitch," Kulpa said. "And then [Darvish] walked [Villar] on the very next pitch and [Pierzynski] continued to argue on the pitch before. And so he got ejected."
Darvish fanned the next batter, Robbie Grossman, to end the inning.
Meanwhile, Oberholtzer lasted into the seventh inning, nearly matching Darvish after the early damage.
"They got two, and after that, they didn't put up anything," Oberholtzer said. "I gave my team a chance to win. We knew what we were up against in Darvish, it's tough competition. I knew what I was up against and battled hard."
Oberholtzer's day extended an impressive run for Houston rookies in the starting rotation. They have a combined 1.48 ERA in 10 starts dating back to Jarred Cosart's scoreless debut against the Rays on July 12.
With the no-hitter still intact, Darvish struck out Matt Dominguez to open the eighth, putting the potential third no-hitter of the Major League season within a handful of outs.
Instead, Corporan -- filling in for Jason Castro, who has a sore hip, for the second straight day -- raked the first pitch he saw into the right-field seats.
"For me, hitting is a bonus," Corporan said. "I like to take care of my pitching staff. If I hit, it's a bonus. My pitchers did a great job. Broke up the no-hitter, but I'd rather get a win.
"With Darvish, you can't sit. You have to see the ball and hit it. I found a fastball right there and could extend my arm. You have to attack early in the count, because he was pretty good today."
Corporan's homer was his seventh of the season. Combined with Jason Castro's 12 homers while playing catcher, the Astros lead the American League with 19 long balls by their backstops.
Texas closer Joe Nathan came on in the ninth inning and recorded his second save in three games. The loss concluded a 1-6 homestand for the Astros, who go back out on the road for a nine-game trip having scored two runs over the past 20 innings.
"I still think that today, the offense did a great job," Oberholtzer said. "Darvish is one of the best pitchers in the game. They battled to the end. He didn't finish the game, so that says something right there.
"We're a young team, but we've got heart."
Chris Abshire is an associate reporter for MLB.com. This story was not subject to the approval of Major League Baseball or its clubs.