Trying season a lesson for younger Giants
Trying season a lesson for younger Giants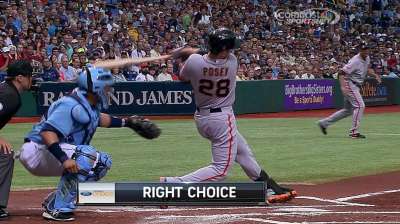 WASHINGTON -- For some Giants, losing also has meant learning.
Players who arrived in San Francisco since 2009, the first of the club's four consecutive above-.500 seasons, have known nothing but team success. Even those who reached the Majors at the end of '08 have absorbed the winning habit, since that's when third baseman Pablo Sandoval joined the Giants in mid-August and the team generated hope with a respectable 22-20 finish.
Hope became reality with two World Series titles in three years. Now that the Giants occupy last place in the National League West, their younger accomplished performers are finding out what it's like to lose. It's a lesson they'd prefer to skip.
"Nobody's OK with what's going on," said left-hander Madison Bumgarner, the 24-year-old who's scheduled to start Tuesday's series opener at Washington. "Everybody's doing their part in trying to fix it."
"It's not a feeling that you want to have very often, that's for sure," said catcher Buster Posey, whose season-ending ankle injury in May 2011 is widely linked to the team's failure to reach the postseason that year.
"Coming in after a loss isn't fun," said shortstop Brandon Crawford, who ascended to San Francisco in 2011. "It's quiet in the clubhouse. Nobody wants to talk about the game.
"Winning's fun."
With a 52-65 record, the Giants appear destined to become the 15th team to win the World Series one year before compiling a losing record. That hasn't happened since the 2003 Angels recorded a 77-85 mark. Should San Francisco finish last, it would be the first club to stumble upon this dubious distinction since the 1998 Marlins, whose owner, Wayne Huizenga, jettisoned many of the previous year's stars.
That didn't happen with the Giants, who began the season with 22 of 25 players remaining from last fall's postseason roster. Such observers regarded this continuity as part of San Francisco's problem by equating it with a reluctance to adjust and the basis of an aging, stale roster.
But younger Giants find no fault with the same faces in the clubhouse.
"The one thing I've noticed is that we're still staying together," said closer Sergio Romo, who was part of the 2008 influx. "We still are united. We're not pointing fingers."
That's just as well. Players would run out of fingers to point, with pitching, defense and offense having failed San Francisco at times this year.
"There are times when you beat yourself, and those are hard to swallow," Romo said. "... We've all found ways to contribute to the misfortunes that we've had."
Posey acknowledged that "it's human nature" to gripe when a team slumps. Players must somehow resist that urge, he said.
"I try to look at it as a challenge, come in each day and have a good mindset, not only individually but as a group," Posey said. "That's probably the most difficult part of the stretch that we've been on for a while now, not falling into that trap of negativity, always finding something to complain about. Fortunately, we do have a group of guys that [avoids] that pretty well."
Said Crawford, "I still think we have a really good team. We should be playing a lot better. But nobody wins every year."
Posey's prodigious accomplishments, reflected by his NL Rookie of the Year Award in 2010 and his NL Most Valuable Player Award last season, suggested the notion that the Giants could thrive as long as he's healthy and productive. This season has proven that Posey's mere presence can't inoculate San Francisco from adversity.
Interestingly, without prompting, Posey cited a performer to whom he's frequently compared -- Yankees shortstop Derek Jeter -- as an example of a player who strives to maintain a winning attitude regardless of the team's fortunes.
"Anybody that respects the game at all, regardless, is going to give it everything they have," Posey said. "I think that's what you see in the great ones, like Derek Jeter, guys who have been playing for a really long time. No matter what the situation is, they look the same. They've got that focus. I can't picture a time in my head when I've ever seen him snap. Obviously there's got to be frustration at times for him, but you don't see it."
Posey added that players and teams can find something to salvage each day, though it's a mental challenge as much as a physical one.
"It's a grind of a season to start with, as we all know," he said. "When you're not playing good baseball, it can become even more of one. It becomes real important to compartmentalize, take your time when you get to the field to do something good and positive in your preparation and try to take that to the game -- not worry about the night before or what's going to happen two weeks down the road."
Crawford echoed Posey while employing different terminology.
"[Enduring a year like this requires] coming in with a good attitude every day, not worrying about what's happened so far this season and just worrying about the game played today," Crawford said. "And keeping a positive attitude. That's the only way you can go about it without mentally collapsing."
Chris Haft is a reporter for MLB.com. This story was not subject to the approval of Major League Baseball or its clubs.