Braves held in check by Hamels in series opener
Braves held in check by Hamels in series opener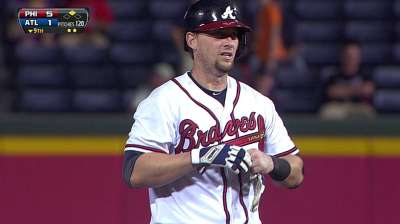 ATLANTA -- While the Phillies spent the previous three weeks falling into despair, the Braves proved to be Major League Baseball's hottest club. But none of that mattered on Monday, when Cole Hamels evoked memories of yesteryear and provided the reminder he remains one of the game's elite pitchers.
Hamels flirted with a shutout and Cody Asche halted Julio Teheran's recent string of success with a three-run homer that helped the Phillies snap an 11-game road losing streak with a 5-1 win at Turner Field.
"We know, any time you play the Phillies, this could happen with the arms they run out there," Chris Johnson said. "Just give all the credit in the world to Cole Hamels tonight. They got some runs on the board early, and he got settled in pretty quick."
Hamels was simply masterful. He scattered six hits and saw his bid for a shutout end when Justin Upton began the bottom of the ninth with a double and later scored on Johnson's two-out opposite-field double. The veteran left-hander's 123-pitch gem paved the way for the Phillies to win for just the fourth time in their past 21 games.
Despite having the most losses in the National League, Hamels is every bit as dangerous as he has been in the past. He has a 1.98 ERA in the eight starts he has made dating back to July 4.
"I know we haven't [won] much, but we've got to start something," Hamels said. "The pride that we all have, it has to be for something. There's not too many opportunities to play the game of baseball. It's winding down, and we better finish strong."
This was just the second loss in the past 16 games for the Braves, who had averaged 5.7 runs in their previous 15 contests.
"You look at the names up and down the [Phillies'] lineup, it's a good club," manager Fredi Gonzalez said. "The guy on the mound made a big difference for them. ... He was good. You've got to give him some credit tonight."
This certainly was not a good night for Teheran to produce his shakiest outing in more than a month. The 22-year-old right-hander was charged with four earned runs and six hits in six innings. He had allowed a total of four runs in his previous four starts combined.
"I felt like I had my regular stuff," Teheran said. "It was just one pitch that cost us the game."
Teheran kept the Braves close, allowing just one run through the first five innings. But his fortunes changed in the sixth inning, when Chase Utley produced a leadoff single and Darin Ruf was hit in the left shoulder with a 1-2 changeup. That set the stage for Asche to drill a fastball into the right-field seats. The three-run shot was the second career home run for the rookie third baseman, who made his Major League debut two weeks ago.
"I felt good out there," Teheran said. "I think it was just one pitch. I wouldn't call it a mistake, because that is the pitch I wanted to make. I think it was in a good spot."
Hamels helped himself when he produced a one-out triple in the third inning that eluded B.J. Upton's glove in left-center. Jimmy Rollins followed with an RBI single. Teheran allowed another single and issued a walk to load the bases before escaping the inning without any further damage.
After waiting through the delay, the Braves did not have many answers for Hamels, whose only previous outing against Atlanta this year came on Opening Day, when he allowed five runs in five innings.
The only two baserunners the Braves produced through the first five innings came courtesy of doubles by Brian McCann and Jason Heyward. McCann was left stranded at third base when Hamels ended the second inning with consecutive strikeouts of Dan Uggla and B.J. Upton. Heyward's two-out double in the third inning was followed by Justin Upton's lazy fly ball, caught by Michael Young behind first base.
"Obviously, as the game went on, you saw him get more comfortable," Justin Upton said. "We didn't get to him early and make him deviate from his plan. So he got comfortable, and he was able to do what he wanted to do."
Hamels encountered brief trouble in the seventh, when Johnson singled and Uggla walked with just one out. But B.J. Upton's sharp grounder to Rollins resulted in an inning-ending double play.
"We hit some balls hard, and we hit some balls right at people," Johnson said. "Sometimes you get beat in this league when a good pitcher gets on the bump and he's on."
Mark Bowman is a reporter for MLB.com. This story was not subject to the approval of Major League Baseball or its clubs.