J-Up reaches out to BTS participant Bryan
J-Up reaches out to BTS participant Bryan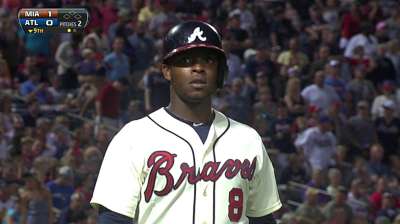 ATLANTA -- When Justin Upton left Turner Field after Saturday night's 1-0 loss to the Marlins, he was feeling somewhat frustrated about the fact that he'd bid adieu to his season-long 13-game hitting streak in a game that ended the Braves' 14-game winning streak.
But the truly disheartening consequence was revealed to him about an hour later, when he learned that his hitless performance had cost Atlanta-area resident Will Bryan a chance to become an instant millionaire through MLB.com's Beat the Streak competition.
Upton's girlfriend has followed BTS' leaders throughout the season and knew that Bryan had compiled a 47-game streak, putting him 10 picks shy of the total needed to win $5.6 million. When she looked to see how Bryan fared on Saturday, she learned that he had chosen Upton to get a hit that day and extend the streak.
When she relayed this information to Upton, he immediately began thinking of ways to provide consolation to Bryan, a 30-year-old police officer who had successfully chosen Atlanta players 21 times during his run.
"I felt terrible," Upton said. "I had been hot. It was a pretty safe pick. But I just didn't get it done that night. If there is any consolation, hopefully I can have him come out and hopefully catch a game or something."
Upton's representatives reached out to Bryan on Monday afternoon to invite him, his wife and his two children to Friday night's game against the Nationals. Details of the arrangement have not yet been completed, but there likely will be an opportunity for Bryan and Upton to meet before the game.
"I'm just completely starstruck," Bryan said. "Here I was, playing a silly game on the computer, and now I am getting all of this attention. It's great."
Upton entered Saturday's game hitting .331 in his previous 31 games and .426 during his hitting streak.
Though Bryan fell short in his bid to win the ultimate prize, he is in line to win the $10,000 prize that will be awarded to the BTS participant who compiles this season's longest streak. His 47-game streak is two games longer than any other compiled this year.
If you want in on the fun, visit mlb.com/bts or download Beat the Streak, presented by Dunkin' Donuts, from the Apple app store or through Google Play. Participation is free.
Mark Bowman is a reporter for MLB.com. Eric Single is an associate reporter for MLB.com. This story was not subject to the approval of Major League Baseball or its clubs.