Hamels leads the way in securing Manuel's 1,000th win
Hamels leads the way in securing Manuel's 1,000th win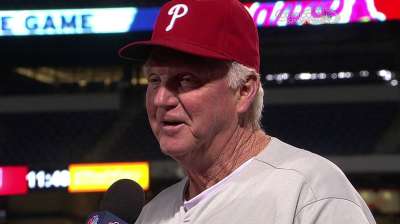 ATLANTA -- The losses have piled up for the Phillies since the All-Star break, which has had Cole Hamels thinking about such things as pride and fight and character.
"How do you want to go out?" Hamels said following Monday's 5-1 victory over the Braves at Turner Field. "How do you want to be remembered? I know we haven't done it much, but we've got to start something. The pride that we all have, it has to be for something. There are not too many opportunities to play the game of baseball. It's winding down, and we better finish strong."
Hamels pitched his best game of the season to give Charlie Manuel the 1,000th victory of his managerial career, allowing just six hits, one run, one walk and striking out nine in his first complete game of the year.
It is a milestone a long time coming. The Phillies needed four wins for Manuel to reach the mark following a victory over the Mets on July 19, but they went 4-17 since as they faded from postseason contention.
"It's definitely quite an achievement," Manuel said. "Like I told my players, they're the ones that make it happen. They play. The two organizations I've been with, they're the ones that get the players for me. That just goes to show you just how good they are. It's hard for me to stand there and say I accept all of my accolades, because the other people are definitely achieving those for you. That's kind of how I look at it. I'm sure later on it probably means a lot more to me than right now. We're still trying to win some games and stuff."
It seemed fitting Hamels got Manuel to 1,000, because he played such a huge role in Manuel's success. Hamels has 96 wins since he made his big league debut in 2006, nearly 10 percent of Manuel's regular-season wins.
That does not include Hamels' seven postseason wins, including four in 2008 on the way to the World Series championship, Manuel's crowning achievement.
"That's good," Manuel said. "I'll go back and thank him again."
The Phillies took a one-run lead in the third inning when Hamels hit a stand-up triple to left-center field with one out and scored on a single to right field from Jimmy Rollins.
Hamels probably figured he needed to create some offense. He entered the night with a 3.23 run-support average this season, the lowest mark out of 93 qualifying pitchers.
But Cody Asche gave him some real breathing room in the sixth inning, when he hit a three-run homer to right field for a four-run lead.
It was Asche's second homer of the season.
Hamels took care of the rest.
In the end, Hamels' 2013 season will be one to forget, but at least he is finishing strong. He is 3-2 with a 1.98 ERA in eight starts since the end of June. He snapped a three-game losing streak for the Phillies, who entered the night having lost 17 of their past 20 games, whereas the Braves had won 17 of their last 20.
"He might be the best pitcher we've faced all year," Braves manager Fredi Gonzalez said.
"[It's] just being able to go out and not let the little things get to you," Hamels said. "When you start a game, you have a plan, and [you have to be] able to stick with your routine [even with the one hour and 48-minute] rain delay, not let that get to you, knowing that I have to be on par and execute pitches, and that's kind of what I was able to do. When you execute pitches against good hitters, I'd say eight of 10, nine out of 10, the pitcher wins, and I'm glad I was able to win because they're a tremendous team."
After the game, Carlos Ruiz presented Manuel a base with "1,000" written on it. Every member of the team signed it.
Hamels acknowledged getting Manuel to that milestone wasn't on his mind. Winning was.
And that's not a bad thing.
"I totally forgot," Hamels said. "It hasn't been talked about much because we haven't been playing well, so we've been really just focusing on trying to win a game, but it's a tremendous accomplishment. It's a huge milestone. It's nice Charlie got that out of the way. Now we need to focus on winning two."
Todd Zolecki is a reporter for MLB.com. This story was not subject to the approval of Major League Baseball or its clubs.