Callaspo delivers winning hit in second straight game
Callaspo delivers winning hit in second straight game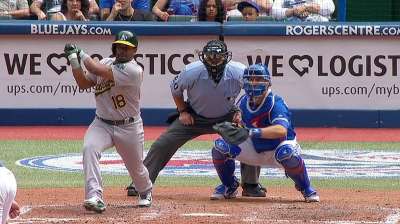 TORONTO -- After owning a one-run lead for the first seven innings of Monday's rare matinee at Rogers Centre, the A's lost it and found themselves having to fight back to regain it.
They've done it many time before. And they did it again with help from the new guy.
Alberto Callaspo, who made a costly error in the eighth that allowed the Blue Jays to tie the game, rebounded quickly from the miscue and laced a go-ahead two-run double to right field off closer Casey Janssen for a 3-1 lead that ultimately turned into a series-clinching 5-1 victory.
It marked the second straight day Callaspo was responsible for the decisive run for the A's, who finished 3-3 on what started out in Cincinnati as a discouraging road trip.
"To finish 3-3 on the road trip, that's good, because we hadn't won a series in a while," Brandon Moss said. "We played better. Our offense, for a few games, it looked really good, and I think that's important for us because, for the most part, our pitching's always there. It's just scoring enough runs, and hopefully this is a sign of things to come for us."
Callaspo was hitless in his first 11 at-bats with the A's, following his trade from the division-rival Angels, and Moss was thinking about scoping out a rabbit's foot for his new teammate "because he was so unlucky."
"When he first got here, he was swinging the bat great, he just wasn't getting any hits," Moss said. "He's been around for a while and knows what he's doing, has professional at-bats. I don't think there's any surprise he's been playing well, that he's getting big hits. I think what's more surprising is how unlucky he was when he first got here."
"I'm starting to feel a lot better," Callaspo said. "I'm glad I had the chance and was able to contribute to the team."
Right-hander Dan Straily did his part, too. And considering Oakland's starting rotation has been in flux, the righty's gem of an outing was all the more encouraging.
Straily had not completed five innings in any of his previous three starts before going a career-high 7 1/3 innings against the Blue Jays, allowing one run on just six hits with three walks and five strikeouts.
"I feel like we needed it," Straily said. "The team needed it, especially after yesterday, taxing the back end of the bullpen a little bit. Going into today, the mindset was throwing as hard as I can for as long as I can. I was able to execute pitches, keep the ball down in the zone, and that's something I haven't been able to do the last few times out."
Straily's struggles in recent weeks coincided with inconsistency from lefty Tommy Milone, who was optioned to Triple-A Sacramento in favor of top pitching prospect Sonny Gray. Like Milone, Straily appeared to be on the bubble, making Monday's outing significant.
Yet Straily didn't get the win.
That's because the A's waited until the ninth to break a 1-1 tie with four runs after not scoring since Chris Young led off the game against lefty J.A. Happ with a home run on the 10th pitch of the at-bat.
Josh Donaldson led off the ninth with a base hit and, one out later, advanced to third on Moss' double. Righty Janssen opted to intentionally walk Josh Reddick, paving the way for Callaspo's game-changing hit. Stephen Vogt added on with an RBI single and Eric Sogard's ensuing sacrifice fly gave the A's even more insurance.
Callaspo's heroics more than made up for his error in the eighth, when Ryan Cook's potential ininng-ending double-play ball off the bat of Jose Bautista hit off the third baseman's glove and into the outfield, allowing the Blue Jays to score their only run.
"That's a tough error," Donaldson said. "This turf, some balls stay true, and others it's like a bouncy ball. It hits and just keeps going, and that's what looked like happened on that ball. But, the error's forgotten about because he had the big hit right there."
"It always atones for it, when you end up getting a big hit like that," manager Bob Melvin said. "It gets you close to your team. It's very difficult to come to a club late in the year and feel comfortable. The more you do that in those types of situations, the more comfortable you feel, the more part of it you feel."
Jane Lee is a reporter for MLB.com. Read her blog, Major Lee-ague, and follow her on Twitter @JaneMLB. This story was not subject to the approval of Major League Baseball or its clubs.