The Week Ahead: It's time for teams to get hot
The Week Ahead: It's time for teams to get hot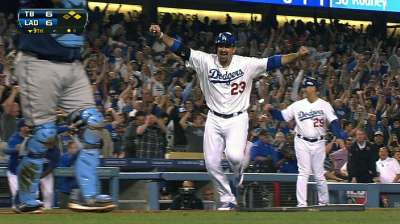 The upcoming week in Major League Baseball leads us into late August, or, as longtime observers of the game know too well, the late season.
In other words, it's time for the serious contenders to do their best to pull away from the rest of the pack, and it's time for the clubs hanging in limbo to get hot in a hurry and figure out a way to make September a month to remember.
The former has certainly been happening for three teams that are surging into this week looking like they're ready for October to begin right now.
The Atlanta Braves, Detroit Tigers and Los Angeles Dodgers are the wheat of late August, and it's starting to look like their division rivals are the chaff. The weather might be cooling off in various climes around the United States, but these teams aren't. They're just getting better and better.
The Braves deserve the most publicity for their recent 14-game winning streak and for the fact that they enter Monday with the best record in baseball (72-46) and the biggest division lead (14 1/2 games over Washington). This week, things are breaking in their favor again, with six games, all at home, against sub-.500 division rivals in Philadelphia and the Nationals.
Manager Fredi Gonzalez has not been celebrating anything, but he has noticed a certain quality that has been emanating from his clubhouse and showing itself out on the field.
"I think it's a club that's got resiliency," Gonzalez said, "that battles all the way to the end."
The same could seemingly be said about the Tigers, who had a recent 12-game streak of their own and have built a healthy seven-game lead over the Indians in the American League Central. Detroit has heft at the top of its starting rotation with Justin Verlander, Max Scherzer and Anibal Sanchez, and it has a score to settle after being swept out of the World Series last year.
This week, the Tigers face a challenge with three games in Chicago against the White Sox, who are rebuilding and in spoiler mode, and then four home games against Kansas City, which has been winning a lot of games lately to firmly put itself in the Wild Card conversation. The standings seem to agree with how the Tigers are feeling about themselves.
"I think that this is the team that we want to be," Verlander said. "Right now, I think we're pitching well, we're hitting well and we're playing good defense. That's the name of the game. If we're going to pitch the way we can with our starting rotation and we're going to score runs, I like our chances to win. It's that simple."
Meanwhile, the Dodgers just keep winning at an astounding rate, even for a team with the largest payroll in the game that was expected to do so much and for a while looked like a huge disappointment. Los Angeles beat Tampa Bay on Sunday for its fifth victory in a row and is now 37-8 in its last 45 games and enjoying a 7 1/2-game advantage over Arizona in the NL West. The Dodgers have been winning in every conceivable way and doing it together.
This week, they'll stay at Dodger Stadium for three games against the Mets before taking their show on the road to Philadelphia for a three-game weekend set against the Phillies. We'll see if anything can slow them down.
"Things have been going well for us now for a couple months," infielder Nick Punto said. "Every day you wake up and are excited to get to the yard. It's just a great atmosphere."
While those three clubs might be the cream of this week's crop, plenty of teams are lurking in the standings, enjoying memorable summers of their own.
Pittsburgh has taken a three-game lead over the Cardinals in the NL Central, but now the Pirates have to go to St. Louis for a crucial three-game series that begins Tuesday. A lot could happen there to shape the rest of that race.
Texas has reasserted itself in the AL West and gets a week of competition against teams with losing records, with one more game against Houston before a two-game home series against Milwaukee and three at home against the Mariners over the weekend. The Rangers will need to take advantage of that and hope that Oakland, which trailed by one game in the division entering Monday, slips up in a packed week against Toronto (one game), Houston (three) and Cleveland (three).
The Red Sox are still in front in the AL East, with a three-game lead over Tampa Bay, and they'll stay in the division this week with three at Toronto and three at home against the Yankees. The Rays will slug it out at home with three-game sets against Seattle and Toronto.
And other Wild Card hopefuls will be out there, too, from Cincinnati to Cleveland to Baltimore to Arizona.
Trades? Sure, we might see a few more. We saw Alex Rios go to Texas last week in the first big move of the waiver season, we saw a minor move with Jamey Carroll moving to Kansas City on Sunday, and there are still a few weeks left before the Aug. 31 deadline for postseason rosters.
Drama? You know it. We've only got a few more weeks until September, and pennant fever is alive and well in quite a few cities across the Majors. It's only going to get more intriguing with each passing day.
And if you pay attention to a team like the Pirates, it won't take you long to see what a tight-knit group can accomplish as the games mean more and more.
"That's how our team is," Pittsburgh catcher Russell Martin said recently. "Guys who contribute at key moments. And it will be someone different every day."
This is exactly what we expect this time of year.
Doug Miller is a reporter for MLB.com. Follow him on Twitter @DougMillerMLB. This story was not subject to the approval of Major League Baseball or its clubs.