Giants' pitching falters late in loss to Orioles
Giants' pitching falters late in loss to Orioles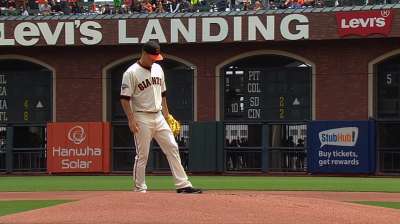 SAN FRANCISCO -- Marco Scutaro couldn't hear, but when he sighed and let out one of those end-of-a-long-day exhales, Pablo Sandoval was a few lockers over talking about keeping a positive attitude during a long year.
Tough during a season such as this, on a day like Sunday. When J.J. Hardy's go-ahead home run left his bat, everyone -- including Hardy -- thought it wasn't going out.
Hardy's seventh-inning, two-run shot to left-center field off Matt Cain helped the Baltimore Orioles come from behind to bury the Giants, 10-2, at AT&T Park for yet another home series defeat.
In 2013, the wind is strongly at others' backs, the Giants just barely mustering sighs.
"It's hard," said Sandoval, whose team is 15 games behind the first-place Los Angeles Dodgers. "But it's a time you experience in your career. Not every year are we going to finish in first place. For us, this is motivation to prepare every day, do our best. And if it doesn't happen this year, then we're well prepared for next year."
With the three-game Interleague series rubber-match loss, last-place San Francisco (52-65) has lost four of its last 14 series finales and won only one home three- or four-game series since late May. The Orioles improved to 65-52, 4 1/2 games behind first in the American League East.
With the Giants ahead, 2-1, Baltimore's Chris Davis led off the seventh with a double off the center-field wall before Hardy clubbed his 21st home run, off Cain's first pitch, a fastball.
A one-run deficit with three frames to bat remaining would have left hope, but the Orioles tagged San Francisco's relievers while the Giants bats had no runners in scoring position and just one hit off Baltimore's bullpen.
Meanwhile, the Orioles added four runs in the eighth, three off reliever Jose Mijares and one off reliever Sandy Rosario. Even starter Barry Zito, making his second consecutive relief appearance, surrendered a three-run homer by Adam Jones, his 24th homer, in the ninth.
Giants manager Bruce Bochy was asked what was more frustrating, the inability to score runs or the bullpen letting the game get away.
"I think a bit of both," he said. "We came out swinging. We got some early runs out there and it just stopped on us. Their guy regrouped out there and we couldn't quite cash in to put a few more on the board. ... It got a little ugly there, no question. The bullpen just couldn't hold it there to give us a chance."
Zito entered because of the club's off-day Monday before a six-game road trip. Maybe there San Francisco will have better luck scoring runs: Its 3.76 runs scored per game average before Sunday ranked third to last in the National League. All this while Giants starters have tossed 13 quality starts in their last 16.
"We score two runs early and then it's like we just kind of sit around and wait and sit on that two-run lead and think that's all we need," said Brandon Crawford, who was 0-for-3 with a walk. "A lot of times with our pitchers, it is. But we've got to pile on."
Cain lasted seven innings and allowed three runs, five hits and three walks with five strikeouts. It wasn't as sharp as his four starts before Sunday (2.00 ERA in those), but he turned in a quality start and a better day-game performance than usual. He had a 6.33 ERA in 48 1/3 innings worth of day action going into Sunday.
"Cain was good all day," Jones said. "He made one mistake to J.J. and he hit it out."
Baltimore starter Bud Norris scattered six hits and two walks in five innings. The Giants probably could have caused more damage but were 1-for-6 with runners in scoring position against the righty. After Norris, the Giants were shut down by the Baltimore bullpen. Orioles reliever Troy Patton (2-0) pitched the sixth for the win.
Brandon Belt continued his hot August right away, hitting a double to left-center field to score Scutaro. Two batters later, Hunter Pence lined to right for a two-out RBI double that scored Belt for a 2-0 lead. Pence is batting .467 in his last four games.
But the lineup needs more. Scutaro is starting to hold down the leadoff spot and is batting .304, going 2-for-4 on Sunday. His spot should be elsewhere, though. Leadoff hitter Angel Pagan might return in early September from surgery on his hamstring, but they're not rushing him. Buster Posey is batting .300 and went 0-for-4 on Sunday. Sandoval is trying to get going, batting .256 after going 1-for-2 with two walks.
That's three times Sandoval reached base without scoring.
"I've learned many things this year. One is that you've got to keep your head up," said Sandoval, last year's World Series MVP and still in the prime of his career.
On Sunday, it was his 27th birthday.
It is difficult to type a sigh.
Willie Bans is a contributor to MLB.com. This story was not subject to the approval of Major League Baseball or its clubs.