Patient approach paying off for surging Davis
Patient approach paying off for surging Davis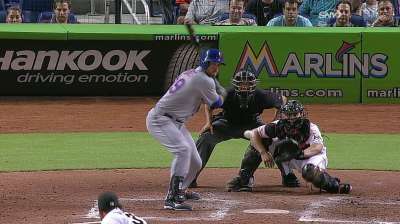 PHOENIX -- Thirty-four times in August, Ike Davis has stepped to the plate. Twenty-four times in August, he has wound up on the bases.
It has been an almost surreal regression to the mean for Davis, who slumped so poorly in the first half that his on-base percentage sat at .242 on June 9 -- the day the Mets demoted him to the Minors.
Since his return, Davis has posted a .482 on-base percentage in 30 games, and a .538 mark since the All-Star break. Though he has only one home run over that span, Davis has upped his season average to .205 and his on-base percentage to .325.
"I'm just trying to see the ball as long as I can," Davis said, referencing his three walks Sunday in a 9-5 win over the D-backs. "If it's not in the zone, I'm just taking it."
Manager Terry Collins admitted after the game that a few weeks ago, Davis might not have batted against a left-handed reliever in the seventh inning. On Sunday, Davis did, drawing the last of his three free passes.
"He's much improved," Collins said. "Early in the year, he was swinging at everything, and now he's waiting to get something he can handle. He's drawing the bases on balls. He's taking them. And I'll tell you what, that's how you bring your average up. You keep getting on and make the pitcher work ... and you look up at the end of the year and you've put together some decent numbers."
Anthony DiComo is a reporter for MLB.com. Follow him on Twitter @AnthonyDicomo This story was not subject to the approval of Major League Baseball or its clubs.