Orioles romp after Hardy's go-ahead shot
Orioles romp after Hardy's go-ahead shot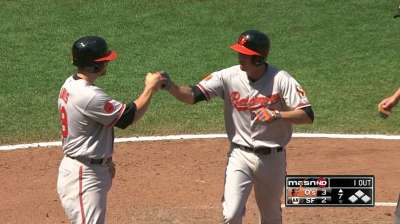 SAN FRANCISCO -- What timely hitting woes?
The Orioles, fresh off a Saturday loss in which they went 0-for-8 with runners in scoring position and stranded 10, made their offensive struggles look like a distant memory after piling on 10 unanswered runs in the final four innings Sunday afternoon.
Baltimore negated an outing by Giants starter Matt Cain that was dominant early on, using a critical two-run homer from shortstop J.J. Hardy and a tack-on three-run bomb from red-hot Adam Jones -- who both helped put on a defensive showcase -- to turn the tables and seal a 10-2 series-clinching win.
The victory, which featured a gutty effort from starter Bud Norris, pulled third-place Baltimore (65-52) within 4 1/2 games of the American League East-leading Red Sox and helped it keep pace in the Wild Card race. The O's are 4-1 through the first two legs of a tough, three-city National League West trip and have won nine of their last 13 games away from Camden Yards as they head to Arizona for another three-game set.
"We know what's ahead of us," said Orioles manager Buck Showalter, whose club secured its first back-to-back road series wins since May with Sunday's win. "I didn't know about the stat. It kind of tells you ... we try and take a game and get after it and see where it takes us. It's a journey. It won't be long until we make the last turn."
After Cain held the Orioles to just an infield single -- by Norris -- through the first five innings, Hardy put his club in the driver's seat with a go-ahead, two-run homer in the seventh. The O's first got on the board on Brian Roberts' leadoff triple -- his first three-bagger since 2011 -- and Nate McLouth's RBI single in the sixth, and Hardy ambushed the first pitch he saw in the following frame for his second homer in three days.
"I never thought homer the whole way," Hardy said of his 21st long ball of the season, which also scored Chris Davis. "About halfway I was looking and [Jeff] Francoeur was going back on it and I thought he was going to catch it in front of the track. And then I kept looking and I thought he was going to catch it on the track and then I thought he was going to catch it up against the wall. I think the wind helped a lot."
The momentum turn, which got Cain out of the game after that frame, helped the Orioles break it open with a combined seven runs in the final two frames.
"Cain was dealing," said Jones, who took Barry Zito deep in the ninth. "You take him, we were down by one, now up by one with the bullpen we got and how they've been throwing as of late, it makes us feel a lot better. ... We do like our chances."
The Orioles employed four relievers -- Troy Patton, Tommy Hunter, Darren O'Day and Francisco Rodriguez -- for a scoreless inning each, lowering the bullpen's ERA to 0.64 (one earned run in 14 innings) over the road trip. The group held the Giants to just one single over that span, piggybacking on Norris' effort, which got better as he went along.
Norris, battling back tightness he woke up with, allowed a pair of RBI doubles in a 29-pitch first inning but held off the Giants after that. While the 28-year-old righty didn't look particularly crisp, he used his defense and scattered six hits and a pair of walks in the 98-pitch, five-inning outing.
"I felt it a little bit in the bullpen warming up, wanted to work through it," Norris said of his back. "Put some hot sauce on it after the second inning -- that helped a lot. But [I] just wanted to go out there and battle for this team and stay in there as long as I could."
Norris' first clean inning was the fifth, a frame that was highlighted by Hardy's falling foul catch over the tarp to retire Brandon Belt. Left fielder McLouth made a sliding grab to end the second inning and rob Belt of a hit, helping Norris strand a two-out double and walk, with Jones' web gem robbing Brandon Crawford in the first.
"A lot of times you got to get guys early before they get settled in or it's going to be a tough day," Cain said of Norris. "He's got great stuff. We had a chance. You got to give credit to him because of the pitches he made."
In three starts since being acquired in a non-waiver Trade Deadline deal with Houston, Norris is 2-0 with a 2.65 ERA, allowing five runs on 15 hits and six walks with 15 strikeouts over 17 innings. The Orioles have scored 20 runs over those three contests.
"It's a lot of fun," Norris said of watching the O's lineup work. "It's something I'm definitely not really used to. Screaming in the clubhouse, I think I scared one of the trainers off the table. But I'm excited. These guys can play baseball. I want to do my part and keep winning games."
The Orioles' eighth-inning scoring started when McLouth worked a leadoff walk against reliever Jose Mijares, who was charged with three runs, and he advanced to third on Mijares' throwing error in fielding Manny Machado's bunt single. Nick Markakis picked up an RBI single, and Jones -- who tied a season-high nine-game hitting streak -- doubled in another run to push the lead to three. After Davis was intentionally walked, Matt Wieters drove in the third run of the inning and Roberts chipped in a sacrifice fly off reliever Sandy Rosario.
"You just got to stay with it," Jones, who is 17-for-36 with 11 RBIs over his nine-game hitting streak, said of the team's lulls on offense. "If you are not swinging it good, if you are struggling as a team, not one person has their head down. We are going to continue to go up there and swing the bat. And sometimes days like this happen."
Brittany Ghiroli is a reporter for MLB.com. Read her blog, Britt's Bird Watch, and follow her on Twitter @britt_ghiroli. This story was not subject to the approval of Major League Baseball or its clubs.