Niese efficient to win in return from DL
Niese efficient to win in return from DL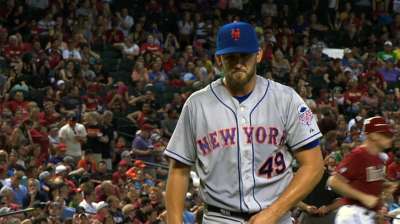 PHOENIX -- Mets catcher Anthony Recker, the man with the best view in the house, swore this was vintage Jon Niese. Maybe his curveball wasn't as sharp as normal. Perhaps his fastball command was not pristine. But Niese's cutter was alive, his control was plain to see and most importantly for the Mets, his results were strong.
Niese gave the Mets six promising innings Sunday in a 9-5 win over the D-backs, returning from a nearly two-month absence as he rehabilitated a partially torn left rotator cuff. The outcome, thanks to a critical D-backs error and a pinch-hit homer from Andrew Brown, was a series win for the Mets to start their 11-game road trip.
"There's nothing like pitching in the big leagues," Niese said. "It's just good to get back out there with all the guys. I'm glad it went well."
Niese never quite seemed to settle into a groove, giving up a run on Aaron Hill's double in the first inning, then three more on Hill's homer in the third. But he did stop allowing runs after that, as Arizona's line drives and sharp fly balls started finding gloves.
"I thought he had great stuff today," said Recker, who called Niese's cutter the best he has seen all year from his batterymate. "They scored all their runs off him on two really good swings by Aaron Hill on pitches that weren't in bad places. The changeup that he hit might have been more middle-in than we wanted, but it was down. And the cutter in, it was in -- maybe even in off the plate -- and he just was able to get to it to lift it out to left. Other than that, they didn't do any damage against him, really."
To his credit, Niese demonstrated good control and efficiency throughout the game, walking just one batter and striking out five. He needed only 83 pitches to complete six innings, leaving with a four-run lead.
That margin was far thinner before the top of the seventh, when the Mets put two men on base with one out against D-backs reliever Joe Thatcher. Rather than allow Mike Baxter to hit against the lefty, Mets manager Terry Collins turned to Brown, prompting the D-backs to make a pitching change.
After running the count full against new reliever Will Harris, Brown launched a three-run homer into the left-field stands to break open the game.
"You've got to be aggressive and be ready to hit that pitch when you get it," Brown said. "I fouled off a couple that I thought I was going to hit before I hit the homer, and it didn't work out. Then I got a pitch that I could get my barrel to, and it worked."
Other than Omar Quintanilla's RBI single in the third inning, the Mets' early offense had been entirely fortuitous. Loading the bases with two outs in the opening moments of the game, they scored their first three runs when Paul Goldschmidt could not corral Baxter's ground ball to first. That extended the inning for Recker, who doubled home Baxter to cap the rally.
Of the five runs charged to D-backs starter Zeke Spruill, four were unearned.
"We had a terrible first inning today," D-backs manager Kirk Gibson said. "We had an error, an uncharacteristic mistake by Goldy that led to four unearned runs. We battled back but the bullpen was unable to shut them down. We had our own opportunities to come back again, but we didn't get the job done there."
Still, some credit should go to the Mets -- and certainly to Ike Davis, who walked three times and singled once. Davis, who reached base safely in eight consecutive plate appearances spanning Saturday and Sunday's victories, has been successful in 24 of his 34 trips to the plate this month.
In the ninth, Wilmer Flores provided some additional insurance with his first career home run, a solo shot into the right-field seats against Heath Bell. With the hit, Flores drove in at least one run for the fifth consecutive game, matching Mike Jacobs for the most RBIs in franchise history over the first six games of a career.
It all made for a happy clubhouse and a satisfying flight to Los Angeles, where the Mets will take on the white-hot Dodgers for three games beginning Monday. Then again, the Mets are somewhat warm themselves, having won five of their last six games and 13 of 24 since the All-Star break.
"We know we're going into Los Angeles," manager Terry Collins said. "We said it last week -- this, for me, is a huge road trip for us as a team. We've got to have some success. We're going in to play the hottest team in baseball. It's not going to be easy. But we're going on the plane with a smile on our face, and tomorrow we'll get ready to play."
Anthony DiComo is a reporter for MLB.com. Follow him on Twitter @AnthonyDicomo This story was not subject to the approval of Major League Baseball or its clubs.