Ross carted off field after dislocating hip
Ross carted off field after dislocating hip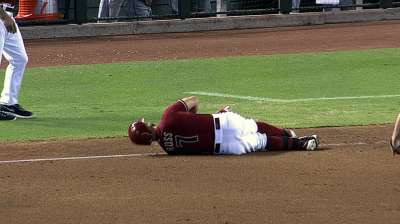 PHOENIX -- D-backs outfielder Cody Ross suffered a dislocated right hip trying to beat out a grounder in the first inning of Sunday's game with the Mets and was taken to a local hospital to determine if surgery is needed.
When asked if the 32-year-old's season is over, D-backs manager Kirk Gibson replied, "I would imagine."
With two down and a man on second, Ross hit a slow roller to third base and appeared to stumble just before stepping on the bag at first. He immediately fell to the ground writhing in pain. Ross was lifted by a stretcher onto a medical cart and driven off the field, flashing a thumbs up toward the stands on the way.
"He was just in a lot of pain," Gibson said. "He extended his right leg and you could just see him bend over."
Team trainers popped the hip back into place, but the club won't know the prognosis for the injury until Monday.
"They did some more tests on him to make sure there's no fracture, and they'll evaluate the damage of it coming out and going back in," Gibson said.
After a slow start to the season, Ross had been one of the D-backs' hottest hitters of late, batting .405 with three homers and 10 RBIs since July 26 entering Sunday. He signed a three-year, $26 million contract in the offseason with Arizona.
Tyler Emerick is an associate reporter for MLB.com. This story was not subject to the approval of Major League Baseball or its clubs.