Kendrick roughed up in shutout loss to Nationals
Kendrick roughed up in shutout loss to Nationals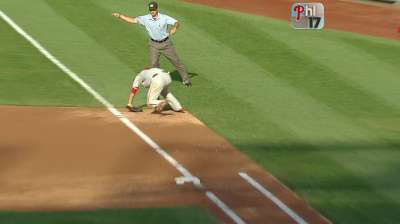 WASHINGTON -- The ball rolled past Erik Kratz and came to a halt a few feet from home plate. Jayson Werth had already scored easily, and when Kratz finally located the ball, Ian Desmond had scored, too.
The Phillies summed up their play since the All-Star break with that one moment in the fifth inning, the result of a low throw home by veteran second baseman Chase Utley. They were swept out of Nationals Park for the first time in team history after losing their 11th straight road game, 6-0, to the Nationals on Sunday evening.
In three short weeks, Philadelphia's season has taken a decidedly downward turn. The Phils have lost 17 of their past 20 games. They have lost six of their seven series since the All-Star break. This weekend, they were outscored, 23-7, by a Nationals lineup that has struggled throughout the season.
"It's been tough," manager Charlie Manuel said. "Since I've been managing the in the Major Leagues, this is definitely the toughest stretch we ever had. I'm pretty sure of it. But yeah, it's tough. I don't know what you're going to do about it. You've got to come out here and play tomorrow. That's all you can do."
Manuel arrived at Nationals Park on Friday with 999 career wins and waited all weekend for No. 1,000. But after his team was swept for the sixth time, he will have to keep waiting until Monday, when the Phillies will open a three-game set with the Braves at Turner Field.
The second half of the season has snowballed out of control, and shortstop Jimmy Rollins can't put his finger on the cause.
"We've had some stretches where we lost some games in a row, but we found a way to put some wins in a row right after that. It isn't happening right now," Rollins said. "Some games we're losing, we're getting outplayed. Some games, we're not making the right plays, not making pitches, not getting hits. That makes it very tough."
Stephen Strasburg also made it tough for the Phillies as he spun one of the best games of his Major League career. The right-hander struck out 10 and limited the Phillies to just four hits in his first complete game.
"I felt good," Strasburg said. "I knew it was going to be a matter of time where I was going to have one of these games where they hit it right to where we were playing and the defense made great plays."
Strasburg's counterpart, Kyle Kendrick, allowed six runs (four earned) on 11 hits and recorded just 13 outs. After the game, however, he pointed out that he did not allow a single extra-base hit.
"I mean, it's just been frustrating the last few starts for me," Kendrick said. "It's been frustrating and I just need to battle through it. That's all you can do."
The Nationals made good contact off Kendrick, but also benefited from a handful of lucky breaks. In the fourth, two singles snuck through the infield and Kendrick walked Adam LaRoche. Steve Lombardozzi scored a run on a fielder's choice and Denard Span scored another on a chopper off home plate that was in the air so long that it prevented Utley from making a play.
Washington piled on in the fifth with more of the same. After two singles and a walk loaded the bases, Wilson Ramos hit a soft liner that dropped at Utley's feet. The 34-year-old veteran had plenty of time to make the play but rushed the throw home, skipping it past Kratz and allowing two runners to score.
Manuel said the team's recent skid has made even routine plays seem difficult.
"You start trying too hard and you have to make plays," Manuel said. "You guys hear me talk all the time about 'Have to.' This is a game where you do it because you want to do it and because you can, not because you have to. It's tension. And pressure. And thinking. Fear of failure creeps in on you."
Strasburg was dominant, but the Phillies didn't present much of a challenge. Rollins, Kevin Frandsen and Domonic Brown were the only Phillies to reach base. None of them made it into scoring position.
"You can't put a finger on it," Rollins said. "We've got a different crop of guys, no doubt, a different talent level, but they're here because the management feels that they have what it takes to win. It's just a matter of getting them to believe it and putting up some wins. And when that happens, then we'll start to believe it."
Just two years ago, the Phillies won 102 games with many of the same players in this year's clubhouse. Three years before that, they were World Series champions. Is it shocking how things have changed?
"It's different. I don't think you're ever shocked because you know things can happen," Rollins said. "But it's not anything you want to go through."
Tom Schad is an associate reporter for MLB.com. Follow him on Twitter @Tom_Schad. This story was not subject to the approval of Major League Baseball or its clubs.