Rockies puncture Bucs' 'pen to sweep series
Rockies puncture Bucs' 'pen to sweep series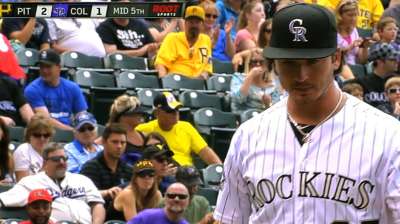 DENVER -- All Rex Brothers could think was attack. Anything else was too much.
The Rockies' chance at their first sweep since April, as well as their fading dreams of climbing into contention, were in his hands -- and he nearly fumbled. But with runners at second and third and one out in the ninth, Brothers attacked and prevailed, and the Rockies won, 3-2, against the National League Central-leading Pirates at Coors Field in front of 44,657.
The three-game sweep was the Rockies' first since taking three from the Mets from April 16-18 and the first time the Rockies had won three straight since May 17-19, when they took the final three of a four-game set against the Giants. Even more, the sweep came on the heels of a 1-9 road trip that had most of those not playing in purple and black believing this team's only choices were to to give up or fight valiantly.
A relaxed Brothers, who escaped with his 10th save, allowed himself to think big picture. The Rockies are 55-64 and 12 1/2 games back in the NL West (pending the result of the first-place Dodgers' game Sunday night), but Brothers is believing.
"When you're on the outside looking in and talking about proving that we've not given up, I see that as a false-hustle award," Brothers said. "There's a true desire and a fire in every guy's belly in this clubhouse to not only prove that we are contenders in this division, but we belong at the top, no matter what the numbers say in the standings."
It was the Rockies' first sweep of a first-place team since they took three from the Braves from Aug. 22-25, 2010.
"As quickly as it can go sour, you've got to believe you can turn it around quickly," Rockies manager Walt Weiss said. "I'm proud of our guys. We swept a series against one of the best teams in the game and one of the best pitching staffs."
Nolan Arenado's two-out RBI single in the seventh broke a 2-2 tie, but Brothers' ninth-inning escape was bigger. It made sure rookie starter Chad Bettis' six strong innings (two runs, four hits, three strikeouts) in a no-decision were not in vain. It made a winner of Manuel Corpas (1-2), who pitched a scoreless seventh and supported Matt Belisle's work in a smooth eighth.
Neil Walker led off the Pirates' ninth with a single, Brothers fanned Russell Martin, and then Tony Scanchez doubled.
"I faced him early in my career, and I know he likes to come after you with a fastball," Sanchez said. "So I was just ready for that pitch, and it ended up falling for me."
Brothers persuaded Weiss during a mound visit to let him pitch to Jordy Mercer, who lined a 2-1 slider to Arenado at third.
"He had a good look in his eye when I went out there," Weiss said. "He wanted to go after Mercer with second and third. That was the big out."
Brothers intentionally walked Gaby Sanchez, and he ended the game by getting Alex Presley to pop his 0-1 fastball to Arenado.
Bettis, in his third start since being called up from Double-A Tulsa, held the Pirates to two runs -- one on the 28th home run by Pedro Alvarez, who leads the NL.
"You have to erase it," Bettis said. "You have to go back and not be afraid to go back inside. The pitch wasn't inside as far as I wanted it."
Bettis held the Pirates to two runs -- the second when Clint Barmes doubled to open the third and scored on Andrew McCutchen's two-out single -- and four hits. He threw just 80 pitches and would have gone more than six innings if Weiss had not needed to make an offensive substitution in the sixth.
Pirates starter Jeff Locke held the Rockies to three hits in 5 2/3 innings with two runs, one earned. One mistake by him and another by Alvarez prevented him from being spotless.
Locke hit Charlie Blackmon to open the third. After stealing second, Blackmon took off for third with the ball still in Locke's hands with one out. Locke stepped off and threw to third, but home-plate umpire Bill Welke ruled it a balk, and Blackmon scored on DJ LeMahieu's sacrifice fly.
"He said when he stepped off he didn't clear the rubber, his foot was still pointed to first," Pirates manager Clint Hurdle said. "I had [pitching coach] Ray [Searage] come in and take a couple looks. The looks we had I don't think showed that. We thought he made a clean move, didn't panic, thought he cleared the rubber, stepped off and made the proper play."
With two down and one on in the sixth and Tony Watson pitching, Alvarez threw wildly after fielding pinch-hitter Corey Dickerson's bouncer to third, which allowed Yorvit Torrealba to score.
Wilin Rosario, who made his first start at first base this season and performed with flair and without a mistake, singled to center off Bryan Morris (5-5) with two down in the seventh, then Arenado doubled into the right-field corner to drive in Rosario to break a 2-2 tie.
"Everyone's happy, and that's a good clubhouse to be around," said Arenado, who has hit .338 in his last 20 games and has an eight-game hit streak. "We have a long way to go. The whole thing is we have to keep playing hard and trying to win as many series as we can."
Thomas Harding is a reporter for MLB.com. Read his blog, Hardball in the Rockies, and follow him on Twitter @harding_at_mlb. This story was not subject to the approval of Major League Baseball or its clubs.