Bucs unable to overcome miscues in finale
Bucs unable to overcome miscues in finale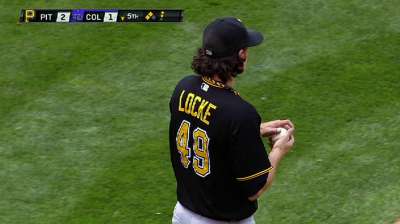 DENVER -- It was a game of conflicting results for the Pirates at Coors Field on Sunday, Jeff Locke once again feeling comfortable from the mound and Pittsburgh mounting what has become their signature rally in the ninth inning. But in the end it meant little, as the comeback faded into Pittsburgh's third straight loss, this one a 3-2 decision.
While the Pirates stranded a runner at third with one out in the ninth, the postgame chatter focused on a controversial balk call in the third inning that allowed the Rockies' first run to score -- the difference in a one-run game.
Locke opened the third by hitting Charlie Blackmon, who stole second before Locke was called for a balk after it was ruled he did not fully disengage with the pitching rubber when he threw a pickoff attempt to third. Locke and Pirates manager Clint Hurdle were both visibly upset with the call, which pushed Blackmon to third and allowed him to score on a sacrifice fly -- without a hit yet allowed by Locke.
"He said when he stepped off he didn't clear the rubber, his foot was still pointed to first," Hurdle said of home-plate umpire Bill Welke. "I had [pitching coach] Ray [Searage] come in and take a couple looks. The looks we had I don't think showed that. We thought he made a clean move, didn't panic, thought he cleared the rubber, stepped off and made the proper play."
Locke said he had not yet seen a replay but believed he did step off completely.
"I think maybe because I took a little shuffle and threw to third, maybe it looked like that's when he thought I dislodged my foot from the rubber," Locke said.
It was the first time the Pirates were swept since they dropped three to the Braves in early June, their last three-game skid coming in mid-July. And this one came at the hands of a Rockies club that had not swept a first-place team since August 2010.
In control for much of the day, Pirates reliever Bryan Morris (5-5) handed the Rockies their first lead of the game on Nolan Arenado's double into the right-field corner in the seventh. That hit ended a stretch of 18 2/3 scoreless innings for Pittsburgh's bullpen, one of the most reliable crews in the Majors.
That was enough to spoil another strong outing from Locke, the left-hander tossing 5 2/3 innings and allowing two runs (one earned) and four walks while striking out three.
Of even greater importance was that Locke rebounded from his last start, when his mechanics felt off kilter and he gave up nine hits and three runs in 5 2/3 innings against the Marlins. He escaped a bases-loaded jam in the fifth after shortstop Clint Barmes allowed a Dexter Fowler grounder to slip under his glove, putting runners at second and third.
Locke intentionally walked Troy Tulowitzki after a quick strikeout, relying on breaking balls to entice Wilin Rosario into a groundout and prevent the error from resulting in another run.
"I'm real impressed with Locke's outing today," Hurdle said. "He gave us a real good start, better tempo, better rhythm, fastball command; he used his curveball and his changeup, stretched out very, very well.
Neil Walker opened the ninth with a single, and catcher Tony Sanchez moved him to third on a one-out double into right for pinch-hitter Jordy Mercer. Pittsburgh was on the verge of another rally.
"I faced him early in my career, and I know he likes to come after you with a fastball," Sanchez said. "So I was just ready for that pitch, and it ended up falling for me."
But after Mercer smoked a ball right into the glove of third baseman Arenado, Alex Presley's infield popout ended the hopes of salvaging a victory in Denver.
"He had a good look in his eye when I went out there," Rockies manager Walt Weiss said of Brothers. "He wanted to go after Mercer with second and third."
Pedro Alvarez swung at the first pitch he saw and sent a solo home run over the right-field wall in the second to give the Pirates the 1-0 lead in the second. His 28th homer, which came off Rockies rookie righty Chad Bettis, pushed him back to the top of the National League leaderboard.
Barmes, playing against the team with whom he spent the better part of his career, led off the next inning with a double. Andrew McCutchen -- hitting an absurd .519 with seven RBIs in eight games -- then made it 2-0 Pirates when he legged out a two-out infield chopper, his speed just enough to beat out the throw and score Barmes from third.
But much like Saturday night, Pittsburgh's lead was little more than a temporary apparition. Another Pirates miscue brought home the Rockies' tying run. With two outs in the sixth, pinch-hitter Corey Dickerson rolled a routine grounder to Alvarez, who airmailed his throw above first baseman Garrett Jones' head and opened the door for Yorvit Torrealba to score from third.
With nothing but two near-comebacks and three losses to show for the Pirates' time in Denver, the focus shifts to a three-game series in St. Louis that grew all the more critical when the Cardinals won Sunday to trim the Pirates' division lead to three games. They have one day to zap the memories of this trip to Coors Field, then comes the classic August shutdown.
"You just come into the off-day and everybody can relax and wash this one away, and maybe it will be a day for everybody to unplug, just kind of get away from it for a day," Locke said, adding that the Pirates had played some good baseball in Colorado, "but not the kind of baseball that we're accustomed to playing right now."
Ian McCue is an associate reporter for MLB.com. This story was not subject to the approval of Major League Baseball or its clubs.