Davidson called up, notches first hit in MLB debut
Davidson called up, notches first hit in MLB debut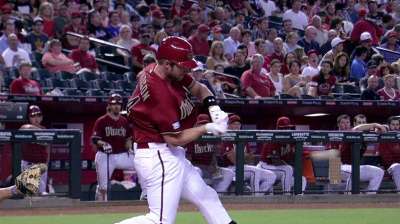 PHOENIX -- Less than a month after being named the Most Valuable Player at the All-Star Futures Game, Matt Davidson's future is now as the D-backs called up the 22-year-old third baseman from Triple-A Reno on Sunday.
Despite arriving at Chase Field just 40 minutes before first pitch against the Mets, Davidson got called into action early when Cody Ross was carted off with a dislocated right hip after running out a grounder to end the first inning. Davidson came on to play third base and singled to left field in his second at-bat of the game.
"Honestly, it was probably the best thing because I didn't have any time to think about anything," Davidson said. "I mean of course I was nervous, but I would've been a lot more nervous waiting all day to start, so getting thrown in there was nice."
Davidson found out about his promotion on Saturday when Reno manager Brett Butler removed the third baseman from the game in the fifth inning. He then took the earliest flight to Phoenix, landing in the Valley at 11:30 a.m. MST for the 1:10 p.m. game.
"It was insane, I didn't sleep at all last night," Davidson said. "It's a dream, I still haven't taken it all in. It's just amazing, I'm so excited to be here. It's definitely a little bit different with the third deck, it's a beautiful ballpark here."
Even with the short notice, Davidson's parents were able to make the trip and attend the game Sunday. He said he'll be giving the ball he hit for his first Major League knock to them.
Sunday marked the latest accomplishment over a whirlwind few weeks for Davidson. He hit a two-run homer in the Futures Game on July 14 to win the game's MVP award and then, just a day later, he took home the Triple-A Home Run Derby title. Ranked by MLB.com as Arizona's No. 2 prospect and the No. 70 prospect in all of baseball, Davidson hit .278 with 16 homers and 68 RBIs in 108 games for Reno this season.
"He's been good, he's a developing kid and he's got some pop," D-backs manager Kirk Gibson said. "He's developed as a fielder as well. As you guys know, he had a great Futures Game and did well in the Derby. He's just maturing, he's got a lot of ability, we've known that for a while, it's just taken some time for him to mature."
With Eric Chavez and Ross both lost to injuries Sunday, Davidson could be a mainstay in the lineup moving forward, potentially splitting time with Martin Prado at third base.
"We'll have to evaluate it," Gibson said. "I've been playing Prado in the outfield some so he could see some more time out there, but we'll definitely give Davidson some reps. I don't know if I'll play him every day, but he will definitely get a lot of playing time."
Tyler Emerick is an associate reporter for MLB.com. This story was not subject to the approval of Major League Baseball or its clubs.