Bow to the King: Felix overwhelms Brewers
Bow to the King: Felix overwhelms Brewers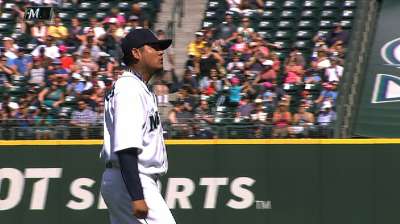 SEATTLE -- Felix Hernandez pitched eight shutout innings to stifle the Brewers on Sunday afternoon as the Mariners won the series finale, 2-0, in front of 25,390 fans at Safeco Field. Milwaukee scored 20 total runs in the first two games of the series -- both Brewers wins -- but managed just four hits in its first game against The King, who struck out nine batters.
"For sure, the first two games were tough and they scored a lot of runs," Hernandez said. "I just wanted to go out there and do what I had to do to win this game. I felt pretty good today, mixed a lot of pitches."
The 2010 Cy Young Award winner improved to 12-5 on the season, and 7-1 over his last 13 starts. He leads the American League with a 2.28 ERA. The 27-year-old Hernandez is 103-25 when the club gives him at least two runs of support.
With the win, Hernandez is now to 3-0 in four starts again the National League this year. He has pitched at least seven innings in each start, and hasn't allowed more than two earned runs in any Interleague game this season.
Dustin Ackley got the Mariners on the board in the third, scoring from third on Wily Peralta's wild pitch. Ackley led the inning off with a double and was advanced by Brendan Ryan's groundout.
"You can't make a mistake when you face a guy like [Hernandez]," Peralta said. "It's, 'Who will make a mistake first?' I made it first, so that's it for the game."
Ryan has played sparingly since the arrival of shortstop Brad Miller, as the Mariners have opted to give the 23-year old experience, while taking advantage of the rookie's bat by placing him in the leadoff spot.
But after committing 12 errors in the past 11 games, Seattle turned to Ryan to solidify its infield defense on Sunday, moving Miller over to second base. Ryan didn't disappoint, locking down the gap between second and third base, and robbing Carlos Gomez of an infield hit in the fourth by charging a ground ball, fielding it barehanded and whipping it over to first in time for the out.
"We all know that he's one of the best shortstops in the league, if not baseball," acting manager Robby Thompson said. "Getting him back out there is good. I know having his leadership out there for the younger guys, especially Brad up the middle, it helps a lot."
In addition to moving Ackley over to third, Ryan tacked on a single. It was a welcome hit for the shortstop, who is regarded as one of the game's best defensive players, but has hit under .200 in each of the past two seasons.
"It's been incredibly frustrating and disappointing these past few seasons of what's going on at the plate," Ryan said. "Nobody really cares, anybody can try, it comes down to batting right and that's what's been so frustrating is just being inconsistent and not having competitive at-bats day in and day out, because I know I'm fully capable of it."
Justin Smoak made it a 2-0 lead for Seattle with a 373-foot home run in the fifth. The 26-year-old is hitting .301 with nine home runs since returning from the disabled list on June 18.
Smoak had a nine-game hitting streak snapped on Saturday, and his newfound power is a big part of the reason Seattle ranks third in the American League with 140 home runs. Seattle only hit 148 homers last season.
Danny Farquhar continued to excel in his new role as the team's closer. The right-hander allowed a two-out single, but got Gomez to ground out to pick up his fourth consecutive save. Farquhar has retired 25 of the past 27 batters he's faced, and hasn't allowed a run in 13 2/3 innings.
Jacob Thorpe is an associate reporter for MLB.com. This story was not subject to the approval of Major League Baseball or its clubs.