McDonald brings bench depth, mentorship to Cubs
McDonald brings bench depth, mentorship to Cubs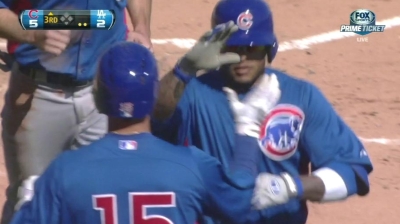 ST. LOUIS -- Darnell McDonald, called up from Triple-A Iowa on Saturday, has one job now that he's back in the big leagues.
"I'll be ready when my name's called, that's what my job is," McDonald said Sunday.
The outfielder will be used against left-handed pitching, and also off the bench. In 96 games at Iowa, he was batting .236, but he's hitting .333 since the Triple-A All-Star break, including 10-for-25 in August.
He's been passed over as the Cubs have promoted outfielders Dave Sappelt, Julio Borbon and Brian Bogusevic.
"I just love playing baseball," said McDonald, who has played for the Orioles, Twins, Reds, Red Sox and Yankees. "Everybody wants to be in the big leagues. I just worry about going out and playing. I'm happy to be here now. There's obviously been a lot of transactions, but you just have to put your head down and worry about going to the field and preparing yourself."
One thing McDonald, 35, has been is a mentor to some of the other players.
"When you play 17 years, you learn a lot of things along the way, things young players go through, especially in the Minor Leagues," said McDonald, who was drafted by the Orioles in the first round in 1997. "For me, if I can help anybody and impart any little wisdom to help someone's career for them to fulfill their dream to play in the big leagues, that's what I'm here for. They make it fun for me. They keep me young, keep you going. It's been fun being in this organization."
Did he ever wonder if he'd get an opportunity to play in the big leagues again?
"I just put my faith in the man upstairs, go out and try to play the game hard," he said. "Every game could be your last game and that's how I try to approach every day."
Carrie Muskat is a reporter for MLB.com. She writes a blog, Muskat Ramblings, and you can follow her on Twitter @CarrieMuskat. This story was not subject to the approval of Major League Baseball or its clubs.