Kershaw's gem carries Dodgers to sweep of Rays
Kershaw's gem carries Dodgers to sweep of Rays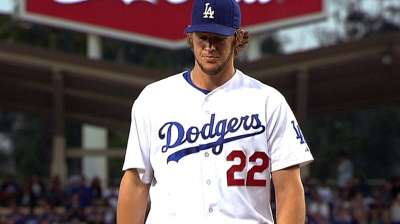 LOS ANGELES -- With another Clayton Kershaw masterpiece, the Dodgers continued their winningest stretch in 60 years with an 8-2 victory over the Rays on Sunday.
In overcoming four errors (three by Dee Gordon), the Dodgers improved to 20-3 since the All-Star break and 37-8 since June 22, when they were 9 1/2 games back and in last place.
Now they are a season-high 7 1/2 games in front and 17 games above .500. They've won their last five games and, at 11-6, clinched their first winning record in Interleague Play since 2004.
"You rattle off a streak like we're on right now, it's a little more than luck," said Kershaw, who limited the Rays to three hits over eight innings. "We're a pretty good team right now, and it's a lot of fun coming to the yard every day. You try not to get too caught up in it and keep playing hard every day."
Most recently, they've gone 6-1 against St. Louis and Tampa Bay, which has convinced A.J. Ellis that this stunning turnaround is no fluke.
"Beating better clubs only adds to our confidence," Ellis said. "It was a big seven-game stretch, and to go 6-1 is huge. It just shows we can match up with anybody."
Mark Ellis went 3-for-5 with a homer and three RBIs, and Adrian Gonzalez doubled home a pair of runs before leaving in the ninth inning with dizziness.
Kershaw (11-7), tagged with two of the three losses since the break while his teammates gave him just one run of support, singled in the first two runs, then scored twice.
"He's been carrying us all year," said Mark Ellis. "We haven't scored enough runs for him, and he hasn't complained one time. He took matters into his own hands tonight and got a base hit with a two-run single. He's incredible. He's as complete a pitcher you could have. You feel good when he's at the plate, too, it's crazy. He's like the perfect ballplayer."
Kershaw's pitching was even better than his hitting, as he struck out eight and lowered his MLB-leading ERA to 1.88 (one of the two runs he allowed was unearned) in the "Sunday Night Baseball" showcase.
"When you put him on a national stage and let him pitch in front of all his peers, it matters to him," said A.J. Ellis. "He had an edge about him today that was fun to be a part of."
Kershaw has gone at least eight innings in 10 of 25 starts and held the opposition to one earned run or fewer in 14 starts.
"It seems like all the stats go off the chart with Clayton," said manager Don Mattingly.
Kershaw is now 11-7, the Dodgers scoring only 10 runs in those losses even though he's pitching better than he did when he won the National League Cy Young Award with 21 wins in 2011.
"You can't control wins and losses," he said. "But that doesn't mean it doesn't feel good to get a win by your name after."
Kershaw flirted with a no-hitter, ruined by Yunel Escobar's clean single leading off the fifth inning.
"It was a changeup, his least-used pitch, and he shot me a look like, 'Don't you know I've got no-hit stuff?'" A.J. Ellis said. "Of course, he has no-hit stuff every time he's on the mound. I'm looking forward to the day it happens. It's almost inevitable."
The Dodgers began the bottom of the second inning with back-to-back singles by Andre Ethier and A.J. Ellis. Juan Uribe moved the runners over trying to bunt for a single on his own (it was ruled a sacrifice), with Gordon (.197) and Kershaw (.132) following. Gordon struck out, but Kershaw pulled a single into right field to snap an 0-for-24 slump, and Ethier and Ellis scored.
"I got one, finally," said Kershaw. "It took, like, two months. Zack [Greinke, batting .385] has been wearing me out. I finally had to get some hits and keep up with him."
And the rout was on. Mark Ellis doubled in Kershaw, A.J. Ellis cashed in a Yasiel Puig double with a sacrifice fly in the fourth (after Puig missed a squeeze sign), Gonzalez doubled in a pair in the fourth and Mark Ellis slugged a two-run homer in the sixth.
That helped cover up the four errors. Gordon made two with wide throws and one dropping a routine grounder that made one of the two runs charged to Kershaw unearned.
"That was a little rough to watch tonight, and I'm sure not fun for Dee," Mattingly said. "It's a little concerning."
But Kershaw didn't waver.
"He's one of the most amazing guys I've ever caught pitching to the scoreboard," said A.J. Ellis. "He knows when he needs to match zeroes with the other guy. He knows he needs to put zeroes up to stop momentum. He knows when he needs to rear back for a strikeout. He knows when he needs to conserve his pitch count. He's always thinking out there. He's always managing the game. That's what separates him. His competitiveness and his game management are the two attributes that get overlooked because he's got amazing stuff."
"They're very hot," said Rays manager Joe Maddon. "They're missing two of their better players [Matt Kemp and Hanley Ramirez ]. ... The primary thing about them that is so good is their pitching. Not unlike us. We win because we pitch well. When we pitch well, we have chances to beat guys like [Kershaw] and Greinke. In order to beat Greinke and Kershaw, you have to match them on the mound, which we can do. And we normally can do. I hope we get another chance come October."
Ken Gurnick is a reporter for MLB.com. This story was not subject to the approval of Major League Baseball or its clubs.