Hellickson, bats struggle in finale with Dodgers
Hellickson, bats struggle in finale with Dodgers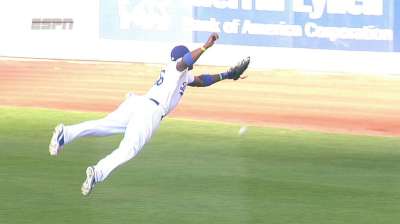 LOS ANGELES -- All's quiet on the Western Front, where the Rays made little noise this past week in being swept by the D-backs and Dodgers.
The fifth and final installment of the 0-5 road trip came via an early-evening affair on Sunday that saw Clayton Kershaw improve his Major League leading ERA to 1.88 in an 8-2 Dodgers win that completed their three-game sweep of the Rays.
Tampa Bay (66-50) has now lost five straight games, but it did not drop any ground in the American League East, as first-place Boston took a 4-3 loss to Kansas City.
The Rays will have an off-day on Monday before beginning a six-game homestand on Tuesday against the Mariners and Blue Jays.
"It's just something we have to bounce back from," starter Jeremy Hellickson said. "We've done it before. We're still right there, as bad as this road trip was. We just have to keep grinding. You know, we're fine."
Most of the talk prior to Sunday night's game centered on the fact that Hellickson would be hitting in the No. 8 spot.
Meanwhile, hitting in the more traditional No. 9 spot, Kershaw came through with a single that drove home the game's first two runs.
Kershaw matched -- and limited -- the Rays' offensive output, holding Tampa Bay hitless through four innings before Yunel Escobar snapped the spell with a single to left. All told, the Rays managed just three hits against the Dodgers ace, who allowed just one earned run in eight innings to earn his 11th win of the season.
"We all knew going into it who we were facing," said Wil Myers, who managed a sacrifice fly in four at-bats against Kershaw. "He just threw the ball well. It was tough to see early on in the game. But he threw the ball well the whole game.
"He's good. He's really good. I think the thing that really makes him good is his delivery. He just keeps people off balance with timing, and he's got good stuff to go along with that."
Added manager Joe Maddon: "[Kershaw is] pretty good. He's pretty good. He's got good mound presence beyond whatever he throws, he's very confident and he pitches well."
Kershaw called Sunday's win "a good night all the way around" for the Dodgers.
"We got some big hits when we needed to and put some runs on the board early," Kershaw said. "It was a fun night."
The Dodgers have won five in a row while improving to 37-8 over their last 45 games.
"You rattle off a streak like we're on right now, it's a little more than luck," Kershaw said. "We're a pretty good team right now, and it's a lot of fun coming to the yard every day. You try not to get too caught up in it and keep playing hard every day."
Kershaw's two-run single came off Hellickson in the second; Mark Ellis plated him with a double later in the frame. A.J. Ellis' sacrifice fly in the third pushed the Dodgers' lead to four runs.
After all the hoopla over the lineup, Hellickson only batted once -- he struck out looking -- and did not return to the mound after the third, leaving the game with his sixth loss of the season secured and an ugly line staring at him from the rearview mirror: four runs on seven hits.
"I'm just not pitching well," said Hellickson, who lost his third consecutive outing and has a 9.75 ERA since July 31. "A few games I've been in a spot where I could make a big pitch with two outs and be fine and I could get deep into the game. But I didn't get the job done. You know, the last two weeks have been frustrating, but I'll be OK."
Rays starters have not gotten past the fifth inning in five of the last six games and six times in the last nine. Prior to the current stretch, Rays starters had gone at least five innings in 32 consecutive games, including seven complete games in their previous 19 games.
The Dodgers scored two off Alex Torres in the fourth, and Josh Lueke surrendered a two-run homer to Mark Ellis in the sixth.
"We're going to hit those bumps, and I'm honestly not concerned about that," Maddon said. "We need to get back in the moments where we have runners in scoring position. We didn't have great chances tonight, but we had chances. ... It's just one of those moments where they're on a really nice roll right now where they're doing what we had done. And we're not right now. The biggest difference is, we did not pitch well enough."
Bill Chastain is a reporter for MLB.com. This story was not subject to the approval of Major League Baseball or its clubs.