Streaky Tribe believes playoff chances are intact
Streaky Tribe believes playoff chances are intact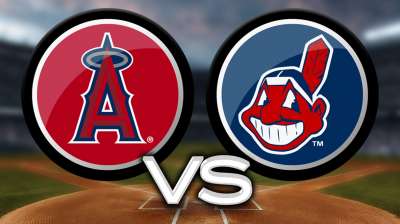 CLEVELAND -- On the first day of the month, the Indians wrapped up a perfect seven-game homestand with a stress-free victory against the White Sox. After a brief road trip to Miami, the Tribe returned to Progressive Field for seven more games, a stretch that has been decidedly less cheerful.
That win over the White Sox -- the Tribe's 11th straight in its own yard -- gave Cleveland a 37-19 record at home, meaning the club had equaled its home win total from all of last season by Aug. 1. With four straight losses to Detroit and two more to the Angels, the Indians are still looking to take their 38th contest of the season at Progressive Field.
During their six-game losing streak, the Indians fell eight games behind the Tigers in the American League Central and four games out of an AL Wild Card slot.
"I hate it, dude. I hate it," first baseman Nick Swisher said Sunday. "It's the worst, because you feel like you're right on the doorstep in some games, and it just doesn't turn out in your favor. We've just got to find a way to win, man. That's it. That's what it boils down to. Regardless of where we are -- home, road whatever, man -- we got a good team in here. We've got to find a way to win."
The six-game slide the Indians brought into Sunday's finale against the Angels is their second-longest skid of the year. They've also had two five-game losing streaks and one that lasted eight games.
But it's also a team that is also capable of stringing together winning streaks of equal lengths. The win against the White Sox capped an eight-game winning streak, and before that, the Tribe had built one six-game winning stretch and two more of five games.
"This team has been pretty streaky," outfielder Ryan Raburn said. "We'll get in those losing streaks and then we'll get in a good winning streak. We got a couple more big winning streaks ahead of us, and hopefully it starts today."
Not much has gone right for the Indians this week. Since the homestand began, they're batting .200 with a .562 OPS and .180 average with runners in scoring position. The pitchers, meanwhile, have a 5.19 ERA in that span.
"We just haven't been playing together real good, haven't gotten the hits, haven't pitched," Raburn said. "But you do kind of go through those streaks. It seems like our streaks have lasted a little longer than other teams'. But when we get on hot streaks, they last a little longer than everybody else's, too. We've just got to keep battling. We still got a long ways to go."
Including Sunday's series finale against the Angels, the Tribe has 45 games remaining on its schedule. Swisher and Raburn both shot down the idea that the team's playoff chances are slipping away.
As Swisher put it, "This ain't over."
Jordan Bastian is a reporter for MLB.com. Read his blog, Major League Bastian, and follow him on Twitter @MLBastian. Mark Emery is an associate reporter for MLB.com. This story was not subject to the approval of Major League Baseball or its clubs.