Few hurlers perfect art of pickoff
Few hurlers perfect art of pickoff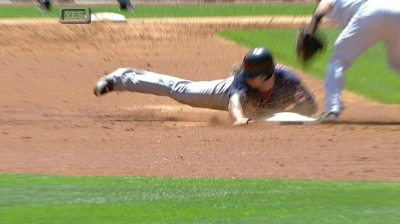 Say the name Andy Pettitte in any baseball circle, and one of the first things that is bound to come up is the left-hander's notorious pickoff move. During his 18-year career with the Astros and Yankees, Pettitte has 102 career pickoffs, which is the most among active pitchers.
While a great pickoff move is something few have mastered, Pettitte and a handful of baseball's best pickoff artists believe it comes down to one major thing -- deception.
"You aren't supposed to deceive the runner, but that really is what it is. It is all about making your mechanics look the same whether you are going home or going to first," Pettitte said. "That really is the long and the short of a good pickoff move."
Blue Jays left-hander Mark Buehrle, who is second on the active list with 93 pickoffs, agrees with Pettitte.
"Yeah. You're trying to trick the baserunner and make them think you're going home when you're really going to first," Buehrle said. "If a [good] baserunner is on first base, you try to trick him more than another guy."
Many pitchers, like Royals right-hander James Shields, think the power of a great pickoff move lies in a pitcher's ability to make concise movements. Shields said he's always focused on having quick feet and a short arm stroke.
That attention to detail has made him one of the best at picking off baserunners. Tallying two pickoffs so far this season, Shields has a total of 26 pickoffs since making his Major League debut in 2006, which is the most by any right-hander in that span.
"For me, it's just identifying and recognizing leads," Shields said. "If you understand how to identify leads at first base, you know when to pick and when not to pick. It's kind of evolved into more of a recognition thing rather than trying to get any better."
Shields said he determines leads by using the infield cutouts, something that is different at each ballpark.
"If a guy is inside a 12-foot cutout, he's got a nine-foot lead. If a guy's outside a 12-foot cutout, he's got a 10- to 12-foot lead," Shields said. "And you also have to recognize who's running. If you've got a guy like Jarrod Dyson or Carl Crawford or Jacoby Ellsbury, their stealing lead is a nine-foot lead. If you get a guy that's not like them and they have a 10- or 11-foot lead, they're looking to go. If they're inside that, there's no reason to go pick over; they're probably not going to steal, and you can go ahead and go home."
Unable to identify a lead with his peripheral vision as a right-hander, Shields said he and teammate Wade Davis also use a technique called "the dip," which allows them to measure distance by looking over to the base with both eyes.
"We can judge distance on where they're at. So when we come set, if we see movement and they take one step to their right, we know what kind of a lead they have before we come set," Shields said. "So if they take one step to the right, we know they've got a bigger step. If they're one step to the left, we know exactly how far they are."
Just as pitchers pay attention to the subtle nuances that can affect their ability to pick a player off, basestealers are doing the same thing by taking in every detail to swipe another bag.
Putting in plenty of time before each contest, the best basestealers watch video of opposing pitchers.
"That's what I've done a lot of over the last five or six years," said Marlins left fielder Juan Pierre, who is first among active players with 611 stolen bases. "I probably watch 20 to 25 minutes on pickoffs and what they do when they go home. I'm trying to pick something up different."
However, it's not just video. Players also utilize the skills of coaches. Crawford, who is third among active players with 443 stolen bases, gets help from Dodgers first-base coach Davey Lopes.
"Davey helps us a lot. He watches the video, picks up tendencies and keys in and tells us what they might do so we know what to look for," said Crawford.
For Yankees center fielder Brett Gardner, the more he's faced a pitcher, the less likely he is to study their move.
While he tends to spend little time on American League East opponents, Gardner is especially interested in Interleague opponents. Take left-hander Clayton Kershaw. When the Yankees squared off with the Dodgers on July 31, Gardner said he took extra time to go over Kershaw's pickoff move.
"If you are facing a guy in the division like a David Price or Jon Lester, who you see all of the time, you don't really need to look at much," Gardner said. "But a guy like Kershaw, who you never really see, you put more time in."
This type of in-depth thinking has forced veteran pitchers who have distinct, successful moves to make adjustments.
Pettitte's done just that, picking up a slide step because basestealers were starting to notice things that made it easier to swipe a bag.
"With so much video out there, all of these great basestealers, they are able to watch me over and over again on video and I can tell," Pettitte said. "I've had to adapt, which is why I haven't picked off many guys over the last five or so years.
Kershaw said he's gone back and forth during his career, switching between a high leg kick and a slide step.
"When I had a high leg kick, they were going on first move anyway. I just decided to simplify it and stay with one," Kershaw said. "It's simple. Try to be simple. Don't overcomplicate things. One less thing to worry about."
However, it's hard for pitchers not to be concerned when they have to deal with players like Ellsbury, who can pick up tendencies quickly and steal bases so successfully. The Red Sox center fielder, who has a Major League-leading 40 steals this season, says he can pick up a pitchers move the first time he throws over to first base.
"You can't be afraid of getting thrown out. You can't be afraid of getting picked off. You know, that's why it's called stealing a base," said Ellsbury, who's been picked off just three times this year. "If it wasn't difficult, everybody would be doing it."
While it can be easy for pitchers to overthink things with runners on base, they understand that there is a high value in a great pickoff move.
"I've tried to help younger guys with it, and it really is something that you either have or you don't. It is so hard to try and work on a good pickoff move, and I don't know why. Because almost anything you work on, you can get better at," Pettitte said. "It is just something you have, and thank the Lord, I was blessed with a good one. It's got me a lot of outs throughout my career."
Quinn Roberts is a reporter for MLB.com This story was not subject to the approval of Major League Baseball or its clubs.