Rays to see familiar faces at Dodger Stadium
Rays to see familiar faces at Dodger Stadium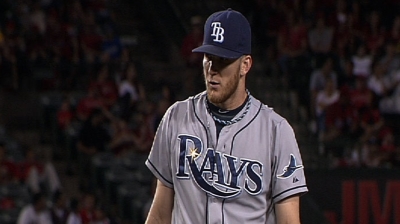 PHOENIX -- After an off-day on Thursday, the Rays open a three-game series against the Dodgers on Friday night at Dodger Stadium.
In addition to the oddity of the Rays making their first appearance at Dodger Stadium, Rays fans might find it odd to see Carl Crawford and J.P. Howell in Dodger Blue instead of the blue worn by Tampa Bay.
On Wednesday afternoon the pair talked via a conference call with Rays beat writers. From listening to both, it was easy to ascertain that they cherish the time they spent playing for the Rays.
Crawford noted that he and former Rays outfielder B.J. Upton have talked about how good life was playing for the Rays.
"Oh yeah, we make no secrets about that," Crawford said. "I tell guys all the time that there's not a place in baseball that's like that. And we definitely had to figure that out the hard way.
"[The Rays] have a lot of fun there and that's part of why they win a lot. Personally, I don't think there's another place like that in baseball. It's pretty close to that [with the Dodgers], we have a lot of fun here, too. But the looseness over there, I don't think you'll find that anywhere else in baseball."
Crawford noted that "whatever it is" the Rays organization does, "it seems to work."
"Some of it seemed silly at the time, but once you leave, you realize that's the kind of stuff that helps a team win and bring them closer and all that other stuff," Crawford said. "What might look silly to other people is actually what's good for those guys. It was a special place, like me and [Howell] say, we liked playing there. We've got a lot of memories, but we've got to move on, you know."
Crawford has played against the Rays with the Red Sox, but this will be the first time Howell has played against the Rays since leaving the team after the 2012 season. The left-hander, known as "Pizzle" around the Rays clubhouse, allowed that the situation will "definitely" be a "little weird."
"I like those boys a lot," Howell said. "They were my first home, my first family. A lot of good memories, a playoff run, a World Series run. It's definitely going to be weird at first, but I can't wait to get the first one out of the way so it can become normal."
Crawford left the Rays after the 2010 season to sign with the Red Sox. After nearly two disastrous seasons in Boston -- that were affected heavily by injury -- he was traded to the Dodgers in 2012. Crawford seems to be thriving once again with the Dodgers.
"I can't really put into words where I am right now," Crawford said. "I'm just in a good place. Things are a lot better for me now. I'm a little more at ease than I have been the last couple of years."
Other than his health, Crawford said the change of environment has been the biggest difference for him.
"[The climate in Boston] was something I wasn't really used to and didn't take too well to," Crawford said. "Out here it's a little more relaxed. Similar to Tampa. I can go out and just focus on playing baseball. And that's one of the main things I wanted to get back to."
David Price, who will start against the Dodgers on Friday night, smiled when asked about his former teammates.
"Just being around [Crawford] for four years, ever since I knew that guy, watching about how he went about his work, his work ethic," Price said. "And just how much of a competitor that he was. It's good to see guys like that succeed."
As for Howell?
"We all love Pizzle, man," Price said. "That dude is one of the best teammates we've all had. We definitely wish him success."
Bill Chastain is a reporter for MLB.com. This story was not subject to the approval of Major League Baseball or its clubs.