Roberts reminisces in return to Chase Field
Roberts reminisces in return to Chase Field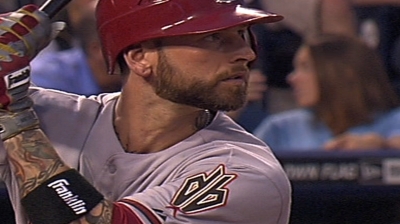 PHOENIX -- Cast off from the Blue Jays and Rangers early in his career, former D-backs infielder Ryan Roberts burst onto the scene in the desert and built a strong relationship with Arizona fans during his tenure with the club from 2009-12.
So when the 32-year-old returned to Chase Field with the Rays on Tuesday for the first time since the D-backs traded him to Tampa Bay last July, Roberts got a bit emotional reminiscing about his past.
"It was just different here because they made me who I am, I went from being a nobody to 'Tatman,'" said Roberts, referencing the nickname D-backs fans gave him due to his abundant body art. "Just seeing the fans again and to be on the field where it all started everything for me, it's just cool. I'm very blessed to be able to come back."
Roberts was a big part of the D-backs' 2011 team that came from relative obscurity to win the National League West. He hit .249 that year with a .341 on-base percentage, 19 home runs and 65 RBIs in 143 games.
Following that memorable postseason run, Roberts thought the core of the squad would be together for a while. But in the two seasons since, the D-backs have traded not only Roberts, but also the likes of Justin Upton, Chris Young and, most recently, Ian Kennedy.
"That's how baseball goes, that's why it's such a luxury to be on a team year-in and year-out," Roberts said. "You think it'll last forever but it doesn't. You start thinking about how much you take for granted. It's just crazy, it really is."
Tyler Emerick is an associate reporter for MLB.com. This story was not subject to the approval of Major League Baseball or its clubs.