Tomlin, Tribe's 'Little Cowboy,' moseys closer to return
Tomlin, Tribe's 'Little Cowboy,' moseys closer to return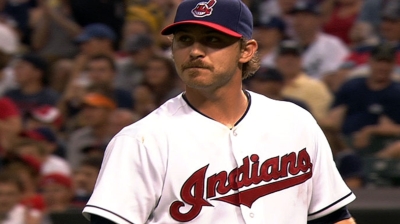 CLEVELAND -- Utility man Ryan Raburn headed to his locker, just a few stalls down from that of right-hander Josh Tomlin, and grinned.
"It's the Little Cowboy!" Raburn said.
Tomlin rolled his eyes, knowing it will be a long time before he can shake the nickname that former Tribe manager Manny Acta bestowed upon him a few seasons ago. But Tomlin does not really mind the jabs, as long as they keep coming from within Cleveland's big league clubhouse, where he hopes to become a permanent resident again soon.
Come Wednesday, Tomlin will continue his rehab with a start for Double-A Akron, logging two innings or 35 pitches, whichever comes first. It will be his first time going beyond one inning on his comeback from Tommy John surgery, though his elbow has held up well throughout his return to games.
"It's been feeling great, it really has," Tomlin said. "I can't complain, by any means. It's been exciting."
The Indians have not ruled out having Tomlin return either later this month or in early September, as either a reliever or starter. Tomlin is being built up as a starter but noted that he can always transition back to a relief role if necessary.
Last season, Tomlin went 5-8 with a 6.36 ERA in 21 appearances, but his showing was marred by the elbow problems that led to surgery in August. In 2011 he went 12-7 with a 4.25 ERA in 21 games.
"He's doing really well," manager Terry Francona said. "It seems like everybody in that room is pulling for him. That's kind of neat. It'll be nice to have him back. When he gets back, it'll be nice to have him around, because I know the guys enjoy the heck out of him."
They certainly enjoy teasing him about the nickname.
Jordan Bastian is a reporter for MLB.com. Read his blog, Major League Bastian, and follow him on Twitter @MLBastian. This story was not subject to the approval of Major League Baseball or its clubs.