Perkins pleased with MLB's action on PEDs
Perkins pleased with MLB's action on PEDs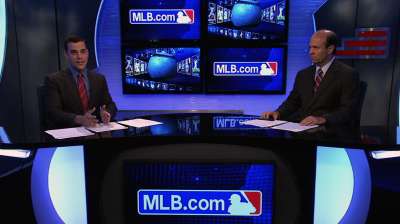 KANSAS CITY -- As the Twins union representative, closer Glen Perkins didn't mince his words regarding the 13 players suspended on Monday as part of Major League Baseball's investigation into the Biogenesis clinic in Florida.
Perkins applauded the system for suspending those associated with the clinic, and said he hopes it deters others from using performance-enhancing drugs. He added that his teammates held a similar view, as they were happy to see baseball take action.
MLB suspensions
•
A-Rod gets ban through '14, 12 get 50 games
•
A-Rod to appeal suspension through 2014
•
Across game, eagerness to move forward
•
50-game suspensions
:
Cruz
|
Peralta
|
E. Cabrera
•
Major bans span across sports, history
•
Justice: Players support protecting integrity
•
Bauman: Suspensions most painful part
•
Gio pleased to have name cleared
•
Braun suspended for rest of '13
•
Commissioner Selig's statement
•
Releases
:
Suspensions
|
A-Rod disciplined
•
Drug Policy in Baseball
•
Duquette, Justice on suspensions
•
A-Rod on suspension, appeal
•
MLB broadcasters react
•
More video
"I think that no one is disappointed in that," Perkins said. "It's the goal of the drug agreement to bring justice to guys who cheated. It's gratifying, I guess, to see guys can't get away with it."
MLB on Monday suspended 13 players as a result of the league's Biogenesis investigation. Yankees third baseman Alex Rodriguez received the stiffest penalty -- a 211-game ban without pay through the end of the 2014 regular season. Rodriguez, 38, has appealed the suspension, which is to begin on Thursday. His case will be heard by arbitrator Fredric Horowitz. Rodriguez's discipline, MLB said in its written announcement, is based on his use and possession of numerous forms of prohibited performance-enhancing substances, including testosterone and human growth hormone, over the course of multiple years. Rodriguez's discipline under the basic agreement is for attempting to cover up his violations of the program by engaging in a course of conduct intended to "obstruct and frustrate" the investigation.
The other players who were handed 50-game suspensions include Rangers outfielder Nelson Cruz, Tigers shortstop Jhonny Peralta, Mariners catcher Jesus Montero, Padres shortstop Everth Cabrera, Yankees catcher Francisco Cervelli, Phillies reliever Antonio Bastardo and recently demoted Mets utilityman Jordany Valdespin. Minor Leaguers Fernando Martinez, Jordan Norberto, Fautino de los Santos, Cesar Puello and Sergio Escalona were also suspended.
RULES FOR SUSPENDED PLAYERS
| What they can't do: | |
| --- | --- |
| Cannot receive pay | |
| Cannot participate in Arizona Fall League | |
| Cannot participate in Postseason games | |
| Cannot be elected or selected to the All-Star Game (if player is suspended during the offseason, Spring Training, or championship season prior to the All-Star Game) | |
| What they can do: | |
| Can participate in Spring Training and extended spring training | |
| Can participate in affiliated Winter League games | |
| Can work out with the club | |
| Can participate in batting practice before the gates open before a game | |
| Can consent to an assignment to a Minor League affiliate for a period of time prescribed under Section 7.H.2 of the Joint Drug Program | |
Perkins noted the Twins have played against many of the players suspended, including Rodriguez who faced the Twins three times in the postseason in 2004, '09 and '10. Rodriguez hit .390 in those games with the Yankees winning nine of those 10 games.
"Pretty much everybody on that list we've seen," Perkins said. "So it's frustrating that those guys cheated and won games for their team when they weren't playing by the rules."
The Twins didn't have any current or former players on the list, which was at least a sigh of relief for the organization. Former Twins third baseman Danny Valencia was linked to the clinic, according to reports, but ultimately wasn't suspended.
"Any time things like that go down, you never want to be part of a bad situation like that," Twins assistant general manager Rob Antony said. "It's unfortunate for baseball, but it's good it's come to a conclusion. The speculation is over and the suspensions have been made, and everybody can move on."
Perkins said a teammate who was suspended for performance-enhancing drugs would have a tough time gaining trust upon returning to the clubhouse. He added that there's still no way to know just how clean the game is, but that this was a step in the right direction.
"I can't really speculate on that," Perkins said. "There's no way to know. These guys had obviously been taking things for a while and getting away with it. So there's no way to know, but it's cleaner today than yesterday."
Rhett Bollinger is a reporter for MLB.com. Read his blog, Bollinger Beat, and follow him on Twitter @RhettBollinger. This story was not subject to the approval of Major League Baseball or its clubs.