After lengthy dry spell, J. Upton's power resurfacing
After lengthy dry spell, J. Upton's power resurfacing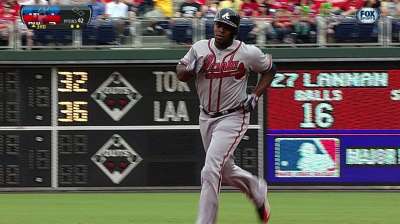 PHILADELPHIA -- After proving to be baseball's most dominant hitter in April, Justin Upton endured another of the lengthy slumps that have haunted him during his career. But the Braves outfielder started turning things around in early July, and over the last week, he has started to once again display his power potential.
"He's just getting on time with the heater again," Braves hitting coach Greg Walker said. "The first month it was so easy for him, I thought he was going to hit 100 home runs. He was making it look that easy. He kind of warned me a little bit that he occasionally fights some things. Right now he's on time with the heater and when he's that way, watch out. He's that good."
Upton entered Sunday with a season-best eight-game hitting streak and three home runs in his previous three games. Before the first of the two home runs he hit in Thursday's win over the Rockies, Upton had three homers during a stretch of 235 at-bats dating back to May 17.
This power drought was certainly not envisioned when Upton homered once every 7.8 at-bats while going deep a Major League-high 12 times in April. He entered May hitting .298 with a 1.136 OPS and exited June hitting .245 with an .802 OPS. He batted .218 with a .635 OPS during this rough two-month stretch.
But Upton has displayed regular signs of encouragement while hitting .291 with an .827 OPS in 26 games since the start of July. Through Saturday, he had batted .353 over his past eight games.
"I think where I'm at is pretty good," Upton said. "I'm in a good spot. The bat is coming through the zone good. I'm not too worried about where [the ball] goes as long as I'm putting a good swing on it."
Mark Bowman is a reporter for MLB.com. This story was not subject to the approval of Major League Baseball or its clubs.